Country
ECUADOR & GALAPAGOS ISLANDS
Duration
12 Days/11 Nights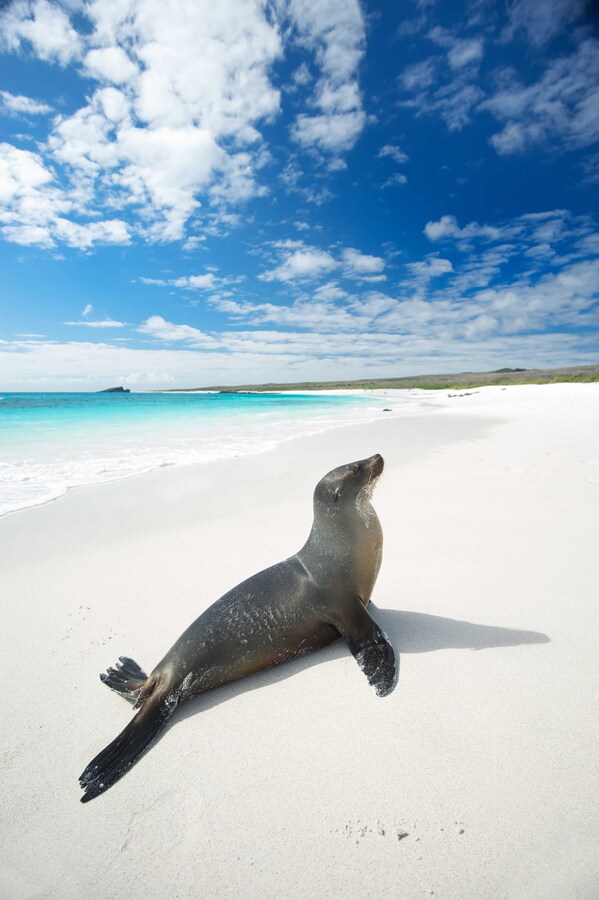 Discover an amazing country with its colorful market, welcoming people, charming colonial cities, majestic volcanoes and unforgettable landscapes.
Inclusions
Round trip transfers
Domestic flights – Quito – Baltra – Quito
3-night cruise in a Standard Plus Cabin
8-night accommodation in standard room
Visits as per itinerary
Local English-speaking guide
Fuel surcharge
Migration control card
20 meals: 11 breakfasts, 5 lunches, 4 dinners
Exclusions
International airfare – Galapagos National Park fees $USD100 – Optional excursions Gratuities to guides and hotels.
DAY 1 QUITO
Upon arrival, transfer to the hotel.
Accommodation :
Quito for 2 nights
DAY 2 QUITO
Colonial City Tour & Middle of the World: bustling streets and squares of the largest historical old town in the Americas, a multi-ethnic, artistic and cultural heritage destination. Visit the "Middle of the world" situated at 0º0'0" latitude.
Meals :
Breakfast
DAY 3 QUITO - OTAVALO - COTACACHI - MAGDALENA KARANKI COMMUNITY
Visit the famous indigenous Otavalo open-market and wander around various stands set in the central square. There is the chance to shop for hand-made textiles, wooden decorations, Andean musical instruments, hats, jewelry and a variety of local souvenirs. Our guide will take you to visit the nearest town called Peguche which is known for its weavers and to visit a workshop of wind instruments. The next town is Cotacachi, where its residents are skilled manufactures of leather goods to later, head to the Magdalena Community for an overnight stay at one of the families' homes.
Meals :
Breakfast
Accommodation :
Magdalena Karanki Community
DAY 4 MAGDALENA KARANKI COMMUNITY - TRAIN RIDE - SALINAS - QUITO
The Magdalena Community is a group of houses located on the slopes of the Imbabura Volcano, where they welcome guests to be part of their families and host traditional activities for a cross-cultural experience. There are also outdoors mild adventure activities such as horseback riding, mountain biking or hiking by the Andean pastures. Guests will be taken by car to Ibarra to get on the Liberty Train. The train ride will go through the magical landscapes of the highlands where it goes through mysterious tunnels, across bridges, spanning canyons and gullies filled with unique biodiversity. Travelers will arrive at the Afro-Ecuadorian community of Salinas, well known for its agricultural activities, to spend the lunchtime and to visit the town. We will head back to the road in our return to Quito for an overnight stay.
Meals :
Breakfast, Lunch, Dinner
Accommodation :
Quito
DAY 5 QUITO - COTOPAXI - BAÑOS - RIOBAMBA
After breakfast, we head south of the Highlands on our way to Baños. In the way, there is a chance to admire the green landscapes of the agricultural activity of the region, as well as stunning views which feature snowed-capped volcanoes such as one of the highest volcanoes on the Earth, the Cotopaxi. The Cotopaxi is part of a National Park with its same name and is open for the public to explore and climb to the rest stops. Arriving in Baños, there is a slight change in the weather, a bit cooler located near the Tungurahua Volcano. There are adventure tours, as well as thermal waters were guests can relax or visits around the town and the nearby waterfalls. Baños is the transition between the Andes and the Amazon regions. We continue on the road headed to Riobamba for an overnight stay.
Meals :
Breakfast
Accommodation :
Riobamba
DAY 6 RIOBAMBA - DEVIL'S NOSE TRAIN RIDE - INGAPIRCA RUINS - CUENCA
We will start the day with a drive through some of the most picturesque indigenous areas and fruit plantations to take the Devil's Nose train. This train is one of the most scenic attractions with zigzagging rails bordering the mountain until arriving at the Chimborazo Forest Reserve and Sangay National Park. Chimborazo is the volcano which stands furthest from the center of the Earth! We continue our way south to arrive at the Ingapirca Ruins which are two complexes of Cañari and Inca quarters bringing together the Imperial Court accommodations as well as a Sun Temple. The visit includes the site museum which exhibits pieces of lytic, ceramic and metallurgy from the pre-Inca and Inca period in the region. The last stop of the day is Cuenca for an overnight stay.
Meals :
Breakfast, Lunch
Accommodation :
Cuenca
DAY 7 CUENCA - EL CAJAS NATIONAL PARK - GUAYAQUIL
We start off the day with a city tour in Cuenca, the third largest city in Ecuador, which is filled with colonial history and more than 20 churches with various styles, surrounded by the archeological remains of pre- Inca cultures such as the Cañaris. In 1999 the UNESCO declared it a Cultural Heritage Site for its unique legacy of its constructions that have remained standing through time. In a 40-min drive, we will arrive in El Cajas National Park. This area is known for its beautiful landscapes with at least 200 lagoons, between moorlands we will find the famous lagoon La Toreadora and take an inspirational walk through the beautiful scenery. After lunch, we will head to Guayaquil for an overnight stay.
Meals :
Breakfast
Accommodation :
Guayaquil
DAY 8 – 10 GUAYAQUIL - GALAPAGOS ISLAND: BEGINNING OF YOUR CRUISE
GALAPAGOS CRUISE ABOARD THE CORAL I & II OR THE GALAPAGOS LEGEND
Depart to the Galapagos in a 2:30-hour domestic flight arriving at Baltra or San Cristobal Airport. A representative of our cruise ship will welcome you, and then you will be transferred to the port to embark the vessel. Enjoy of a paradisiacal destination marked by its uniqueness which inspired Charles Darwin on his Theory of Evolution. Every day visit two new places, and wake up with the most idyllic landscapes, to later enjoy a buffet-style breakfast and time to get ready for the first excursion.
Every island and visitor site offer different geographical landscapes, fauna, and flora, but every corner of the archipelago will be filled with wildlife. From blue-footed boobies in their mating dance to lazy sea lions sunbathing by the shore, or fast-swimming penguins next to you in the snorkeling activities. All our guest will return to the ship for a varied lunch-buffet and free time to relax by the pool, sun terraces or Jacuzzi of our open decks while we arrive at our next visit.
Get on a dinghy ride with a Galapagos naturalist expert and learn more about geology, evolution, human history and biology of the next visitor site. Once again be amazed by the different terrain, exotic animals, and plants. Start with a hike through natural paths and have close encounters with the inhabitants of the area. Then, have some free time to enjoy the crystal clear waters of the beach, or choose to snorkel, kayaking or glass-bottom boat adventure.
Return on board to get changed and comfortable to later enjoy a-la-carte dinner in our acclaimed Lonesome George Restaurant which serves local and international specialties. One evening, we will surprise you with an al-fresco BBQ on the highest deck with great quality cuts, salads, and seafood for the ultimate Galapagos experience: dining under the sunset. After dinner, there will be a short but entertaining lecture about next day excursions followed by free time to relax or join an onboard activity.
Meals :
Breakfast, Lunch, Dinner
Accommodation :
Standard plus Cabin
DAY 11 GALAPAGOS ISLAND - QUITO
On the last day, breakfast will be served earlier than usual to take advantage of the morning and take part in the last excursion. Guests will take a flight back to Quito. Once in the mainland, one of our representatives will transfer you to your hotel for an overnight stay.
Meals :
Breakfast
Accommodation :
Quito
DAY 12 QUITO
Transfer to the airport of Quito.
Meals :
Breakfast
Rates in CA$, per person, starting from, in double occupancy

Land Package and
3-night cruise

Departures 2023
4*
April 1 – December 14
6649
Single room supplement, or single passenger
On request
Note: Seasonal surcharges may apply.
**Prices in this document are for information only; they were issued at press time, for the current year. Please note that due to exchange rates and temporary promotions, they can increase or decrease at any time. Contact your travel agent for the price and promotion of the moment. The prices indicated exclude the contribution to the Customer Compensation Fund of $3.50 per $1,000 of tourism product or service purchased from a travel agent in Quebec.