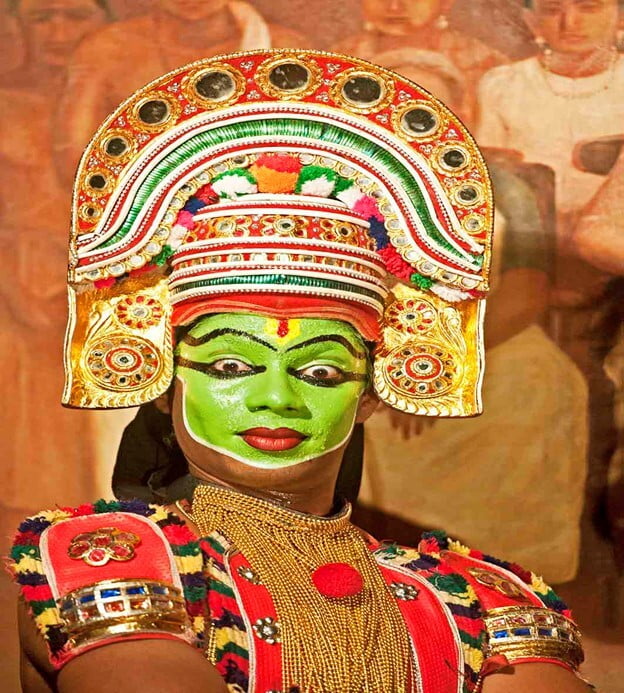 Flanked by the Arabian Sea in the West, the towering Western Ghats in the East and networked by 44 interconnected rivers, Kerala is blessed with a unique set of geographical features that have made it one of the most sought after tourist destinations in Asia. A long shoreline with serene beaches, tranquil stretches of emerald backwaters, lush hill stations and exotic wildlife, are just a few of the wonders that await you once you crossover to the other side. And what's more, each of these charming destinations is only a two hour drive from the other – a singular advantage no other place on the planet can offer.
Inclusions
8-night accommodation in chosen hotel category
13 meals: 8 breakfasts, 4 lunches, 1 dinner
Early check-in in Cochin
All the airport transfers/excursion will be provided by air-conditioned vehicle: one Toyota Innova for 2 Pax / two Toyota Innova for 4 pax / Tempo traveler for 6 pax
Car at disposal throughout the tour
Meet and greet with our representative
Local English-speaking guide as per the itinerary
Entrances at the monuments (single visit)
Special curated tour of Cochin
Cooking Demo in Thekkady and Alleppey will be on private basis
Exclusions
International and domestic airfare – Gratuities to hotel personnel, guides, and drivers – Beverages – Airport taxes – Visa fees for India – Expenses of personal nature – Any other items not mentioned in the inclusions.
DAY 1 COCHIN – ARRIVAL
Arrive in Cochin by flight. On arrival in Cochin, after crossing immigration and baggage, you will be met by our representative in the arrival hall, who will transfer you to your hotel. We have blocked your room from previous night for immediate occupancy.
Kerala, and especially Cochin, was one of the main ports on the spice route. The history of Kerala reflects the significant influences these foreign visitors left behind. Christianity first came to India through Kerala, and the Islamic influence in the state can be seen when traveling north. Even after they left, the cultural influence is still seen in the architectural inheritance of Fort Cochin and in the cuisine. The area is a jumble of antique and spice shops, and souvenir shop leading to the Synagogue, the oldest in India. It is a fun area to wander at leisure. Later, you meet your guide at a designated time, then you continue back to your hotel, stopping along the way on Bazaar Street, famous for its spices.
Due to flight schedules, you will likely arrive at the hotel after midnight local time. Considering this, today morning you will be at leisure to ease the effects of jet lag and relax a bit before your India tour begins.
Late in the afternoon you will visit the excellent Folk Art Museum that houses art and artefacts from the States rich folk and art culture. Later you will watch a performance of the classical Kathakali dance in the theatre. Kathakali is a classical dance form that has its origins in Theyyam, a ritual tribal dance of north Kerala and Kalaripayyattu, the martial arts which goes back 1000 years. The dancers use dramatic costumes and exaggerated facial make up, and to accompaniment of drums and cymbals, use stylized movements to relate episodes from the Mahabharata and Ramayana. You arrive early at the theatre to watch the dancers prepare for their performance.
Accommodation :
Cochin for 2 nights
DAY 2 COCHIN
Early morning around 7:30 AM you will embark on an expedition through the enchanting hinterlands of Kerala aboard a Tuk-Tuk. This unique program offers a captivating exploration of a typical Keralan village, allowing you to immerse yourself in its essence. Upon your arrival at the rendezvous point, our expert guide escorts you to the local fishing harbour for a detailed overview of the fishing economy and the lives of local fishermen. You'll have the chance to witness live fish auctions on most days. Afterward, we'll hop back on the Tuk-Tuk and head to a local family's home for a delicious breakfast. This immersive experience allows for interactions and an understanding of rural household dynamics. Following breakfast, we'll explore the charming village via Tuk-Tuk, providing a glimpse into local life.
You will end your tour with a short ferry ride to the other side and stroll through the village.
After lunch at a local restaurant, seafood specialty or South India cuisine, you will meet our expert guide for a brief walking tour of Fort Cochin. Walking through the narrow roads of the area today referred to as the Heritage Zone, you will see various architectural styles reflecting the many cultures that lived here. Dutch houses stand next to spacious porticoes British plantation style homes. Further down are two churches built by the Portuguese, while standing guard over the harbor are the Chinese Fishing nets.
In the narrow alleys of the old city you will come across interesting small cafes and book shops and boutiques. Just before sunset, the fishing boats pull in and there are auctions along the waterfront as the excess is sold to local vendors, the rest being supplied to the hotels.
Meals :
Breakfast, Lunch
DAY 3 COCHIN – MUNNAR
Today, drive up to the cool hills of Munnar for approximately 4 hours. Set on the seaward slope of the Western Ghats, Munnar is the centre of Kerala's tea industry. It is fortunate to have developed as a British "hill station" and the quiet town and its environs are blanketed by lush tea plantations and remnants of rainforest.
On arrival in Munnar, transfer to your hotel.
After lunch, you will visit Munnar's Tea Museum, home to a charming collection of tea related curios and photographs. Along with informative exhibits, the museum also offers visitors the opportunity to experience tea tasting sessions. You can savour different varieties of tea and learn about the nuances of tea flavours while enjoying the serene surroundings of Munnar. It's a wonderful way to delve into the world of tea and appreciate the significance of this beverage in the local culture of Munnar.
Meals :
Breakfast
Accommodation :
Munnar for 2 nights
DAY 4 MUNNAR
After breakfast you will explore an interesting trek,Top Station Valley Trek. This five to six-hour scenic trek is ideal for those wanting to stretch their legs in the crisp fresh air of the Western Ghats. The guided excursion begins soon after breakfast and includes a beautiful 29 km drive to Yellapetty Estate, where the trek begins. The drive passes through tea plantations, villages, Echo-Point and Kundala Dam. The trek takes you across undulating terrain, passing through the tea plantations, dense shola forests, mountain ridges and shola grasslands. You will reach an altitude of about 1700 meters (5,577ft) and throughout the walk you will have spectacular views of the surrounding countryside and hills shrouded in tea. The length of the walk can be adjusted according to fitness levels.
Rest of the afternoon is free for you to explore.
In the evening, cooking demonstration with dinner with a local family. Sadya meal: traditional and elaborate feast in Kerala that is typically served on special occasions, weddings, and festivals like Onam. It is a complete vegetarian meal served on a banana leaf, featuring a wide array of dishes.
Meals :
Breakfast, Dinner
DAY 5 MUNNAR – THEKKADY
After breakfast, drive to Thekkady, gateway to the Periyar National Park. The drive will be taking approximately 4 hrs.
Periyar National Park is one of the homes of the Asian Elephant. Set around the massive Lake Periyar, stretching over hills and valleys, this is a very picturesque park. The area was declared a Project Tiger Reserve in 1978. Visitors are restricted to the "tourism zone" and wildlife viewing is done from a boat on Lake Periyar in the mornings and evenings. The lake being one of the major sources of water in the park attracts the wildlife and birdlife of the park. It is possible to see herds of elephants feeding by the lakeside, large groups of deer and wild boar come to the water hole, and the Indian bison is often seen grazing in the parklands. Among the other inhabitants of the park are wild dogs, a variety of monkeys and a large number of birds, some that are indigenous to this region. Though tigers do inhabit these forests, their numbers are few.
After, enjoy a boat trip on Periyar Lake, one of the best ways to spot wildlife as they come to drink and bathe. One of the largest wildlife reserves in India, Periyar Wildlife Sanctuary is spread over an area of 777 square kilometres of the Cardamom Hills, in the Western Ghats. The sanctuary was declared as part of Project Tiger in 1973 but it's mainly noted for its herds of elephant, tropical evergreen and deciduous forests and bird life. One of the best ways to enjoy the wildlife in Periyar Wildlife Sanctuary is by boat on Periyar Lake, as the vessel skirts around the lake edge where animals are often drinking and bathing. The boat is shared with others and can be noisy, however it does offer the best chance of seeing wildlife.
Meals :
Breakfast
Accommodation :
Thekkady for 2 nights
DAY 6 THEKKADY
After breakfast, enjoy a walking tour through a locally run spice plantation and learn all about cardamom, pepper and vanilla. Just a few kilometres from the village of Kumily (which is next to Periyar Wildlife Sanctuary) are numerous spice plantations that are owned and cared for by the local villagers. The region's climate and soil is ideal for growing spices and this has resulted in many individual plots that are generally around two acres in size. Each farmer grows small amounts of many spices, which often includes cardamom, pepper, cocoa pods, vanilla, cloves, nutmeg, allspice, ginger and curry plant. Walking through the plantation you can see, taste, and smell all of these with the help of your expert guide. The tour normally lasts around 1.5 - 2 hours and is a real highlight of the area.
Afternoon at leisure to enjoy hotel activities.
Meals :
Breakfast, Lunch
DAY 7 THEKKADY – KUMARAKOM
After an early breakfast you will leave for Alleppey where you will board the Premium Houseboat at 11:30 hrs for a day cruise with lunch. The drive to Alleppey will take approximately 4 hrs.
The boat will sail across the lake and enter the backwaters. Lunch will be served on board. Later, you will disembark your houseboat and drive to your hotel in Kumarakom.
Meals :
Breakfast, Lunch
Accommodation :
Kumarakom for 2 nights
DAY 8 KUMARAKOM
Today, you will drive to the town of Alleppy that at one time was the center of the spice trade. This attracted traders, money lenders and buyers from across the world and India and in a small area, you will see an astonishing variety of architecture. You will go on a walking and driving tour with Rani John, a long-time resident who is working hard to preserve this unique heritage. From the wonderful heritage of Alleppy set along the canals, you stop at the new Alleppy, a complete contrast to the picturesque and sleepy old town.
The walking tour will be followed by a cooking demo with lunch. You will learn Siriyan Christian food, a traditional culinary style originating from the Syrian Christian community in Kerala, India. This cuisine reflects a unique blend of Kerala's flavors and influences from the Middle East, as Syrian Christians have a long history of trade and cultural exchange with the region.
Meals :
Breakfast, Lunch
DAY 9 DEPART KUMARAKOM
Depending on your flight, transfer to airport for your flight to onward destination.
Meals :
Breakfast
Rates in CA$, per person, starting from, in double occupancy

Land Package

Daily departures from October 1st, 2023 – March 31, 2024
High
Boutique hotel
Mid-range
boutique hote
2 passengers
4675
3649
4 passengers
4365
3335
6 passengers
3920
2890
Single occupation supplement (with minimum 2 pax traveling)
+2400
+1375
**Prices in this document are for information only; they were issued at press time, for the current year. Please note that due to exchange rates and temporary promotions, they can increase or decrease at any time. Contact your travel agent for the price and promotion of the moment The prices indicated exclude the contribution to the Customer Compensation Fund of $3.50 per $1,000 of tourism product or service purchased from a travel agent in Quebec.