Duration
15 Days/14 Nights
Travel Type
Escorted Tour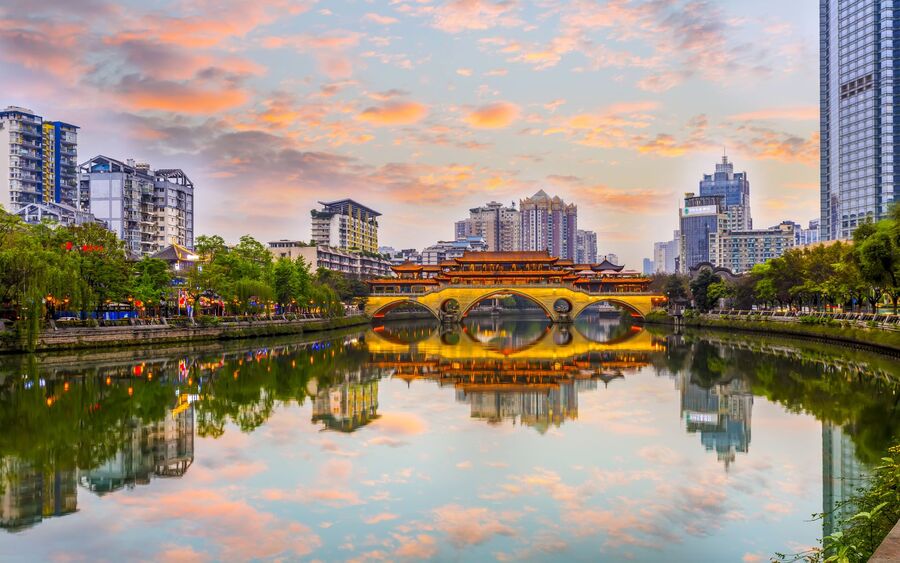 SHANGHAI
Shanghai is a diverse city—the old alleys in the old part of town, the century-old European-style buildings along the Bund, gardens filled with memories around Chenghuang, skyscrapers of all kinds in Lujiazui—a melting pot of different elements that forges the city's unique charm. Numerous attractions and delicacies create a travel culture exclusive to Shanghai, and make it a magical place of never-ending attraction for food lovers, travellers, and those who love to party.
XI'AN
Identified by UNESCO as a Famous World Ancient City in 1981, Xi'an is China's best tourism destination and one of the county's National Civilized Cities. Cultural relics spread over six locations have been listed as two World Cultural Heritage sites, including the Mausoleum of the First Qin Emperor and the Terracotta Warriors, Giant Wild Goose Pagoda, Small Wild Goose Pagoda, Daming Palace National Heritage Park (Tang Dynasty), Weiyang Palace Relics (Han Dynasty) and Xingjiao Temple Pagoda.
CHENGDU
Most tourist attractions in Chengdu are found in Qingyang District and Wuhou District: Du Fu's Thatched Cottage, Qingyang Temple, Wenshu Monastery, Kuan Zhai Alley and the Jinsha Site are all in Qingyang District, and Zhuge Liang Memorial Hall and Jinli Ancient Street are in Wuhou District.
There are also many sites in the suburbs of Chengdu that you will not want to miss, such as Huanglongxi Ancient Town in Shuangliu County and Luodai Ancient Town in Longquanyi District, all amazing destinations to experience the breathtaking scenery and folk culture of Sichuan villages.
BEIJING
Beijing is one of "The Four Great Ancient Capitals of China". In the city, there are countless scenic spots and historical sites, featuring historic figures and cultural heritage. The city boasts historical sites such as the Forbidden City, one of the Five Most Beautiful Royal Palaces in the World; the Temple of Heaven, where the Emperors worship the Heaven, Beihai Park and the Summer Palace, which were imperial retreats, as well as sections of the Great Wall at Badaling, Mutianyu, and Simatai, and Prince Gong Mansion, the world's largest Siheyuan (courtyard house).
GUANGZHOU
A long history of more than 2,000 years has earned the city a classification as a National Famous Historical and Cultural City. Known as the "Millennium Trade Capital", Guangzhou was the first port opened to foreign trade in China, and marks a starting point of the Maritime Silk Road. With a great number of foreign residents, this trade gateway is also dubbed the "Capital of the Third World".
Guangzhou is also known as the "City of Flowers" with a mild climate and green trees all year round. A unique natural environment and distinctive Cantonese flavor makes Guangzhou a popular tourist destination.
THE GREAT WALL OF CHINA – Walk along China's Iconic Ancient Wonder
The Great Wall is the military defense project in ancient China, mainly distributed in 15 Chinese provinces, autonomous regions and municipalities, i.e. Hebei, Beijing, Tianjin, Shanxi, Shaanxi, Gansu, Inner Mongolia, Heilongjiang, Jilin, Liaoning, Shandong, Henan, Qinghai, Ningxia and Xinjiang. Where there is the Great Wall, there are profound imprints of the Chinese history. Here exist the Palace Museum, Temple of Heaven, Summer Palace, Terracotta Army and Jiayu Pass, to name just a few. Tracing the Great Wall and one will finally enter the hinterland of China; standing atop the Great Wall and one will be transported to the battle scenes of millennia ago, and envisage the up and downs of Chinese history unfolding.
THE YELLOW RIVER – Come Face to Face with the Mother River
The Yellow River is the second-longest river in China and the sixth in the world with an estimated length of 5,464 km. The river basin was the primary birthplace of Chinese civilization and is thus known as the "Mother River". Originating in the Bayan Har Mountains on the Qinghai-Xizang Plateau in Western China's Qinghai Province, it flows eastward through Qinghai, Sichuan, Gansu, Ningxia, Inner Mongolia, Shaanxi, Shanxi, Henan and Shandong, before emptying into the Bohai Sea. The river course is dotted with renowned scenic areas including the Baotu Spring, Qufu Ming Dynasty Ancient City and Mount Tai.
Inclusions
14-night accommodation
25 meals: 14 breakfasts, 10 lunches, 1 dinner
Travel by bus with English-speaking guide
Arrival and departure shared transfers
Excursion: Dujiangyan, Quingcheng Shan Mountain and ancient city of Jiezi in Chengdu, Reed Flute Cave.
Boat: Boat trip in Longmen, Boat trip in Quingcheng Shan Mountain in Chengdu, Cruise on the river Li
City tour in Shanghai, Xian, Guangzhou, Macau, and Hong Kong
Evening Transfer: Old City in Luoyang, Hong Kong Bay in Hong Kong
Ferry: Huangpu River in Shanghai, Star ferry in Hong Kong Bay
Funicular: Quingcheng Shan Mountain in Chengdu, Peak Tram (one way) in Hong Kong
High Speed Train: Shanghai – Luoyang, Chengdu – Congjiang
Ticket admissions:
– Yuyuan Garden and demonstration of the Tea ceremony in Shanghai
– White Horse Temple in Luoyang
– Buddhist caves of Longmen in Longmen
– Baoulon Temple
– Guo Museum in Sanmexia
– Terracota Army Museum
– Small Wild Goose Pagoda
– Chinese calligraphy course
– Mosque
– Show of traditional instrument playing in Drum Tower (not always guaranteed) in Xian
– Traditional irrigation system in Dujiangyan
– Sacred Mountain of Quingcheng Shan in Chengdu
– Basha Miao village
– Village Zhaoxing Dong Ethnic
– Village Guangxiao Dong ethnic
– Wind Bridge in Chengyang
– Rice paddies in Longsheng
– Reed Flute Cave
– Ancient City Huangyao in Huangyao
– House of the Chen Clan in Guangzhou
– History Museum in Hong Kong
Exclusions
International airfare – Beverages – Gratuities to guides, drivers, and hotel staff – Optional excursions – Personal expenses – City tax and visa fees when applicable – Travel insurances – All other items not mentioned in the inclusions
DAY 1 ARRIVAL
Arrival. Welcome to China! Transfer to the hotel and free time. You will receive information about the start of the circuit during the afternoon.
Accommodation :
Shanghai for 2 nights
DAY 2 SHANGHAI
In the morning, our trip includes a visit round this impressive city. We will know the area of Pudong, located across the Huangpu River, is now the financial district, with its skyscrapers as the Pearl Tower. We include a ferry crossing of the Shanghai River which will give us great views of the two parts of the city. We will stroll the Old City and the Yuyuan Garden, a private garden that was built during the Ming Dynasty. We will enjoy a demonstration of the Tea ceremony, traditional drink that plays an important cultural role in China. We will pass by one of the most fashionable neighborhoods of the capital, Xintiandi. Lunch included. Then, visit Tianzifang, a former residential area known for its narrow, labyrinthine traditional streets with its small craft shops and art galleries. We finish the visit along the Bund with its old buildings that remind us of the influence of European trade.
Free afternoon. If you wish, you can enjoy a boat trip to see Shanghai at night, it will be an unforgettable experience.
Meals :
Breakfast, Lunch
DAY 3 SHANGHAI - LUOYANG
Transfer to the station. We take the high-speed train (a train is expected to leave at 07.17 h), and in a little over five hours, through many sections of pretty countryside, we cover the 1,000 km to LUOYANG. Lunch included. We see the impressive Buddhist caves of LONGMEN over more than a kilometre of the rocky walls of the river, where they sculpted more than 100,000 images of Buddha. We will include a boat trip. After this, transfer to the ancient city, where we cross its impressive wall and can enjoy the great traditional activity and its lit up streets.
Meals :
Breakfast, Lunch
Accommodation :
Luoyang for 1 night
DAY 4 LUOYANG - WHITE HORSE MONASTERY - SANMEXIA - XIAN
In the early hours, on the outskirts of Luoyang, we visit the WHITE HORSE BUDDHIST MONASTERY, a huge monastery and place of study where Buddhists from all countries of the world. We continue our route to SANMEXIA. In this historic city we will see the Yellow River and the Baoulon temple with its tall pagoda and we will visit one of the best museums in China: the Guo museum with the funeral carriages of the former state of guo. Lunch included. We continue eastwards, passing the foot of Mount Hua, a holy mountain. XIAN, arrival at the end of the afternoon.
Meals :
Breakfast, Lunch
Accommodation :
Xian for 2 nights
DAY 5 XIAN
We have arrived in the fascinating city where the silk route originated. First thing in the morning, we will go to see the TERRACOTA ARMY, with its thousands of life size clay soldiers that were found underground. We return to XIAN, where we will visit the Small Wild Goose Pagoda where we will enjoy a brief Chinese calligraphy course. Later, we go across through the walled centre. We will cross the Muslim quarter there and we will enter the mosque, where we will be able to see the multiple cultures and religions that have left their mark on this country. Our tour will also include entry tickets to the Drum Tower where we will enjoy a short show of traditional instrument playing. Free time.
Meals :
Breakfast
DAY 6 XIAN - CHENGDU
We leave Xian in a very modern high-speed train, and in just over three hours we cover the 700 km that separate us from CHENGDU. On arrival we will go to the Panda Bear research and breeding centre, a reserve where 120 giant pandas and 76 red pandas live. Lunch included. In the afternoon we will take a stroll through the People´s Park, with its small lake, the local people doing Taichi, and its tea houses.
Meals :
Breakfast, Lunch
Accommodation :
Chengdu for 2 nights
DAY 7 CHENGDU - DUJIANGYAN - QINGCHENG SHAN - JIEZI - CHENGDU
Today we include full-day tour of Sichuan Province, with its pleasant landscapes and traditional villages. In DUJIANGYAN we see the traditional irrigation system, which has been working for more than 2000 years and is a world heritage site. QUINGCHENG SHAN, "mountain of the green city" is a Taoist holy mountain. Its paths through the forests show us caves, pavilions and centuries-old wooden temples, lunch included. Finally, we will visit the ancient city of JIEZI with its alleys with over a thousand years of history. Return to CHENGDU.
Meals :
Breakfast, Lunch
DAY 8 CHENGDU - MIAO VILLAGE - ZHAOXING
We will travel by train, we get up early (our train leaves at 7.38 hrs), and we have to do almost a thousand kilometres in just over five and a half hours amidst magnificent mountain scenery (picnic lunch on the train). On arrival in Congjiang, we are in a magnificent and unknown area of China inhabited by ethnic minorities. We see the BASHA MIAO Village in the forest, with its wooden houses. This is the only ethnic group authorised to carry firearms, as they were traditional bear hunters. We continue to ZHAOXING, the most important town of the Dong minority, a beautiful place with its more than 800 traditional homes; many say that it is the most beautiful town in China.
Meals :
Breakfast, Lunch
Accommodation :
Zhaoxing for 1 night
DAY 9 ZHAOXING - GUANGXIAO - CHENGYANG - LONGSHENG - GUILIN
Today you will do one of the most beautiful and exciting stages of your trip. GUANGXIAO, among amazing villages of the Dong ethnic group with its beautiful wooden architecture, this charming town frozen in time is little visited by international tourism; we will see its suspension bridge, the drum tower and the opera house. We also stop at CHENGYANG, with its magnificent "wind and rain bridge". Lunch included. In LONGSHENG we will go to the LONJI rice fields, a World Heritage Site. A small bus will take us to the viewpoints and you can walk down a sector along paths between rice paddies and wonderful scenery. After that we continue to GUILIN -Arrival at the end of the afternoon.
Meals :
Breakfast, Lunch
Accommodation :
Guilin for 2 nights
DAY 10 GUILIN
A full day in GUILIN, one of the most popular cities in China with a very pleasant atmosphere on the banks of its lake, next to the river Li, and with its busy shopping streets in the centre. We include a visit to the Cane Flutes Grotto, a magnificent cave in which there are numerous fantastically shaped stalactites and stalagmites lit up in beautiful colours, creating a spectacular world in the bowels of the earth. Afternoon free, we recommend you visit the Jingjiang Palace, the "miniature forbidden city".
Meals :
Breakfast
DAY 11 GUILIN - CRUISE ON THE LI RIVER - YANGSHUO - HUANGYAO - GUANGZHOU
We will leave Guilin by boat and take a cruise on the Li river. The countryside is spectacular with its green mountains, the villages on the banks, the amazing rocks and its mountain peaks in amazing shapes. Lunch included. We come to YANGSHUO, a very lively tourist city. A stroll before continuing through central China to the rural HUANGYAO; this ancient city is magnificently preserved with its small streets, old buildings, temples. The life and activity of its inhabitants will also take us to another time. Time for a stroll. We continue on our way to GUANGZHOU. Arrival at the end of the day.
Meals :
Breakfast, Lunch
Accommodation :
Guangzhou for 1 night
DAY 12 GUANGZHOU - ZHUHAI - MACAU
Guangzhou, we include a two-hour tour of this thriving metropolis of southern China; we will walk along Shangiaxju Street with its traditional market, see the House of the Chen Clan from the end of the 19th century and we will explore the riverside area. Free time and lunch included. In the afternoon we travel to ZHUHAI on the China Sea; we stop next to the impressive Opera House built on land reclaimed from the sea, opened in 2016 and whose impressive shape symbolises the sun and the moon. BORDER CROSSING and entry in MACAU, where we see the area of the casinos, many of which are in the same style as those in Las Vegas. Their activity is impressive.
VERY IMPORTANT: If you return to mainland China on your trip after your stay in Macau and Hong Kong, you need a double entry visa.
Meals :
Breakfast, Lunch
Accommodation :
Macau for 1 night
DAY 13 MACAU - HONG KONG
MACAU. We include a tour of the city whose historic centre has been declared a World Heritage Site. Administered by the Portuguese from the 16th century until 1999, its history can be seen in its ancient churches, the tiles of the civil buildings, its fortress and the oldest lighthouse in China. Free time and lunch included. In the afternoon we take the impressive bridge that connects Hong Kong with Macao. This was opened at the end of 2018 and is an engineering feat with more than 30 kilometres of bridges over the China Sea, 6 kilometres of tunnel under the sea and artificial islands; we will stop at its tourist platform to admire this work.
HONG KONG - Arrival. After our accommodation, we will take the Star ferry, crossing Hong Kong bay by boat to enjoy a short walk to see the illuminated buildings from the other shore. Return to the area of our hotel. Dinner included.
Note: If there are fewer than 12 people in the group, the trip from Macau to Hong Kong may be done by Shuttle bus.
Meals :
Breakfast, Lunch, Dinner
Accommodation :
Hong Kong for 2 nights
DAY 14 HONG KONG
After breakfast, we will visit the city to see the financial centre with its tall skyscrapers, and we will visit the History Museum that enlightens us on the history of the city (colonial period, World War, etc.) the avenue of the Stars by the dock, which shows us the celebrities of the cinema industry. We will take the Star ferry across Hong Kong Bay and climb by bus up to Victoria Peak (552 m) with a view of the whole city. Return on Peak Tram. After our visit, free afternoon.
Meals :
Breakfast
DAY 15 DEPARTURE
After breakfast, transfer to the airport. End of our services.
Meals :
Breakfast
Rates in CA$, per person, starting from, in double occupancy

Land Package
Departures
Single
Occupancy
Double
Occupancy
Tour starts in Shanghai on specified Thursdays from September 2023 to March 2024
September 14, 28, 2023
October 12, 26, 2023
6540
5159
November 9, 2023
March 28, 2024
November 23, 2023
6545
5165
December 7, 21, 2023
January 4, 18, 2024
February 1, 15, 29, 2024
March 14, 2024
6269
5100
ID: 26984
**Prices in this document are for information only; they were issued at press time, for the current year. Please note that due to exchange rates and temporary promotions, they can increase or decrease at any time. Contact your travel agent for the price and promotion of the moment The prices indicated exclude the contribution to the Customer Compensation Fund of $3.50 per $1,000 of tourism product or service purchased from a travel agent in Quebec.