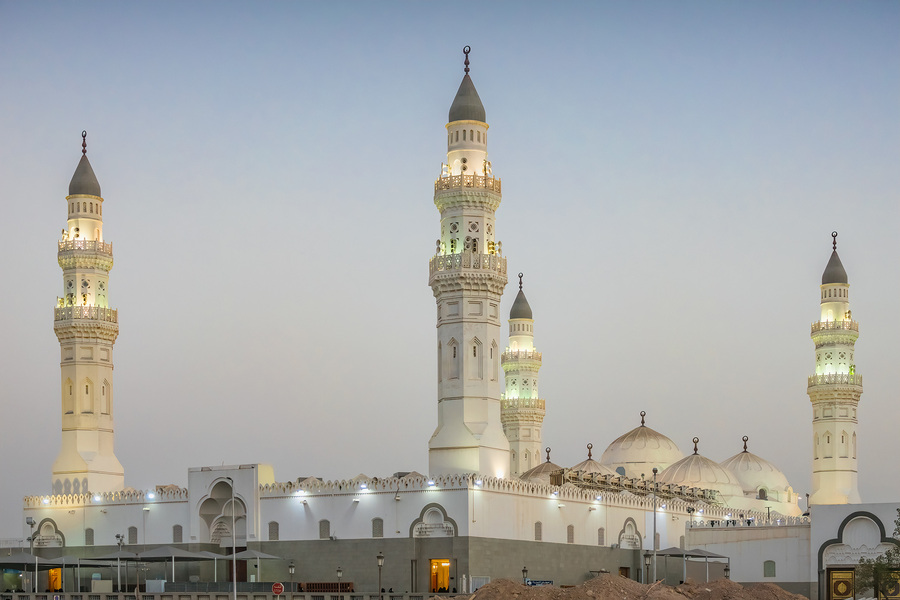 Riyadh – Live the modern life to its fullest
In the ever-growing and flourishing city of Riyadh, you will discover the birthplace of the Kingdom of Saudi Arabia, along with its historical treasures hidden in the old palaces that witnessed the founding of the kingdom. It is a destination for tourists from all over the globe who wish to discover a world of shopping, entertainment and business. The malls offer the most exciting shopping experience, and the sand dunes combined with the brightest stars in the sky present the most magical experience in nature. It is an environment full of a natural variety and unique characteristics that are intriguing for explorers. On the other side of the bustling city, you can enjoy a variety of experiences in luxurious restaurants that offer their special services, and their elaborate international dishes. Simultaneously, the local Riyadh restaurants will tempt you with their authentic flavors and blend of spices originating from Saudi culture. Everyone is happy in the city of Riyadh where the biggest cultural events are always celebrated. Endless entertainment destinations are always emerging, for the city's visitors to have intriguing and renewing experiences.
Jeddah – A seaside city filled with beauty
When you visit Jeddah, you will have the opportunity to witness a rich heritage celebrated by UNESCO. From "Historical Jeddah" to the antique designs of balconies, stone walkways and ancient sidewalks, this destination unearths secrets that have inspired artists, writers and visitors alike for hundreds of years. Here, you will have a chance to see magnificent sunsets shimmering off the divine Red Sea shores as well as having magical diving experiences featuring colorful coral reefs. Whether on land or under the sea, you won't soon forget Jeddah's many year-round splendors.
AlUla – Saudi Arabia's first UNESCO World Heritage Site
There are few places in the world where you can still feel like a true explorer charting the unknown. In many historic destinations, the illusion of discovery is promptly shattered by a jungle of selfie sticks. But in AlUla, which is home to Saudi Arabia's first UNESCO World Heritage Site, deep in the desert in the northwestern region of the country, you might still be able to play out your fantasy of being an intrepid archaeologist for a day. Despite all the makings of a bucket list-topping global destination — ancient tombs that remain as the legacy of 7,000 years of human civilisation, stunning natural rock formations and canyons, a plethora of adventure sports options and cutting-edge art installations — AlUla remains largely off the global tourism radar, giving you plenty of space and time for reflection with the monumentality of its beautiful desert landscapes.
Al-Madinah – The first Islamic Capital
Historically known as Yathrib, Madinah was established in the 6th century BC and is the first Islamic Capital and one of the most important places of the revelation of the Prophet (PBUH). He immigrated to Yathrib in 622 AD and built Al Masjid an Nabawi – the 2nd holiest place on earth for Muslims – where his grave lies after he lived his last days there. Madinah is rich with Islamic heritage and includes the Quba Mosque which is the 1st mosque built in Islam, and tens of other historical mosques and eternal ruins. Yathrib gained its importance a long time ago because of its geographical location, as it lies on the road for Hajj and trade, and has a unique land, with mountains, plains, oases, and gold, silver and copper mines.
Madinah receives millions of Muslims longing to visit it from all around the world, as it is an important religious destination. The Prophet's sanctuary is restricted for Muslims only, whereas the rest of Madinah welcomes Muslims and non-Muslims to explore its historical heritage and observe its culture and museums, and enjoy its gardens and entertainment destinations.
Inclusions
7-night accommodation
10 meals: 7 breakfasts, 1 lunch, 2 dinners
Arrival and departure transfers
Activities as per itinerary
Tickets and entry fees
Domestic flight Riyadh – Tabuk
Private transportation with English-speaking drivers
Local English-speaking private guides during the visits
Train ticket
Exclusions
International airfare – Gratuities to guides, drivers, and hotel staff – City tax and visa fees when applicable – Travel insurances – Optional excursions – Meals other than mentioned in the inclusions – Personal expenses – Beverages
DAY 1 ARRIVAL AND PICK UP
Today we will be welcoming you at the airport as our representative will be waiting for you holding a sign with your name, we will be taking you to your hotel where you can rest for a bit.
Welcome to Riyadh, the birthplace of modern Saudi Arabia, where old-world charm meets 21st-century vision. Riyadh Province – also known as Al-Wosta – is home to the country's capital: a modern metropolis with a thriving financial and business centre, and a growing cultural scene. It's a city rich in history, boasting myriad forts, palaces and museums, and some of the country's most colorful souks.
Accommodation :
Riyadh for 1 night
DAY 2 RIYADH CITY TOUR
RIYADH CITY TOUR - AL MASMAK - NATIONAL MUSEUM - DIRIYAH SITE
First visit is Ad Diriyah, northwest of the city and the original capital of the first Saudi state is a must-see. Its Al Turaif quarter, a carefully restored mud-brick district that was named a UNESCO World Heritage Site in 2010, offers a glimpse into the country's extraordinary heritage.
We will start our day with a historical brief about the capital of Saudi. In the National Museum you will be discovering Saudi Arabia's rich past, an amazing journey that would bring you along thousands of kilometers around the whole Kingdom. An easier way to have an insight of Saudi Arabia's rich History is to visit the King Abdulaziz Historical Center in Riyadh where artifacts from all periods are exhibited and with explanations about their historical significance.
After our historical brief we will go see some by ourselves checking out Al Masmak Fortress. Surrounded by sand, this squat fortification was built around 1865 and is like a scene out of the movies: a big fortress representing an empire. It was the site of a daring 1902 raid by Ibn Saud, during which a spear was hurled at the main entrance door with such force that the head is still lodged in the doorway. Highlights among the exhibits include maps and fascinating photographs of Saudi Arabia dating from 1912 to 1937, in galleries converted from diwans (living rooms). The roofs are covered with painted palm-tree, ceramic and ethel wood and exude an old-world charm that evokes an Arabian painting. Inside, the information panels and short, chest-thumping films on the storming of the fortress and the 'reunification' of Saudi Arabia are reverential towards the Al Sauds but worth watching nonetheless.
In the same area and only in walking distance we will find ourselves in Souq Al-Zal which is one of the oldest traditional markets. They sell traditional dresses, antiques, Oud " Arabic perfume" and jewelry.
For lunch, we suggest Al Qaria Al Najdya for traditional cuisine. After our lunch break, we go to the airport to take our flight to Tabuk.
Meals :
Breakfast
Accommodation :
Tabuk for 2 nights
DAY 3 TABUK (HISMAH)
HISMAH MOUNTAINS - BAJDA
Today we will be doing a desert tour in the beautiful mountains of Bajda Mountains area, narrow passages, red dunes, sunset and historical inscriptions.
It's a day where we get to experience and live the desert life as we will be enjoying this journey by sand duning, hiking and jumping from a location to another catching hills and looking for inscriptions.
Our tour usually includes visiting the below :
- The Ship rock which contains old inscriptions that dates back to more than 1300 years.
- Jubb Canyon a spectacular place to enjoy a walk between sand rocks in the middle of the desert.
- The great Arch
After our tour today we will be heading to Tabuk and check in in our hotel and get rest.
Meals :
Breakfast
DAY 4 TABUK (DISSAH) - ALULA
WADI DISSA WITH LUNCH
Our trip is going to be to Wadi Al Dissa, As we reach the valley we will have our lunch there where our team will be preparing for you traditional delicious food. After lunch we will take you on a walking tour inside this gorgeous valley and explore Wadi Dissah which is a 15-kilometer-long canyon running through the Jebel Qaraqir, a sandstone massif lying about 80 kilometers south of the city of Tabuk.
This natural wonder was for a long time a well-kept secret among explorers, before the road leading to the nearby city of Dissah was built and satellite images were available to the public, which made it quite difficult to find and reach. Let us tell you a little bit about this valley before we start our hike so you prepare yourself and to get astonished! The first striking feature of this wadi is its dimensions: at the eastern entrance of the canyon the side cliffs are already higher than 100 meters, but at the western entrance the gap between the bottom of the wadi and the tallest cliffs reaches as high as 500 meters! It is there, from the massive rocky peaks, standing on both sides of the canyon, that one can admire the most dramatic scenery of this magical place.
The second and most unexpected amazing feature of Wadi Qaraqir is a water stream that runs through the western part of the canyon towards the city of Dissah. While you are exploring Wadi Qaraqir from the eastern entrance, you will find abundant palm trees growing naturally along the wadi bed. But once half-way through the canyon underground water tops up all year long. As a result, lush vegetation made of 3 meters high grass, numerous palm trees and bushes, flourishes in between the majestic cliffs of the canyon! We head back to Tabuk but with a final stop on our way to have the last look on one of the beautiful view points and then continue our drive to AlUla to spend the night.
Meals :
Breakfast
Accommodation :
AlUla for 2 nights
DAY 5 ALULA - TOUR
MADAIN SALEH (HEGRA TOUR)
Today we are starting with the most popular historical site in Saudi Arabia, Madain Saleh is the most iconic historical site of the Kingdom of Saudi Arabia and its one of Saudi Arabia tours that is a must do, it is the first to be listed as a UNESCO Word Heritage, Madain Saleh means the "cities of Saleh" after the name of the Prophet Saleh who tried to convert the ancient people of Thamud to Islam. But this name started to be used only during the Ottoman occupation of the Hejaz, whereas the people who built this city, the Nabateans, called it Hijra.
The importance of Madain Saleh is ostensibly displayed by its 111 monumental tombs, among which 94 were decorated with majestic facades on the sandstone massifs of the area, especially the Jibal Ithlib. The smallest tomb is barely 2,7 meters tall but the biggest reaches an impressive 21,5 meters! Madain Saleh was the second largest city of the Nabatean kingdom whose capital was Petra (in today's Jordan) where the Nabatean people created more than 600 tombs. What most people dont know that there are many other fascinating archeological sites attest to the thousands of years of human occupation of the area thanks to the underground water available for millennia. Dont worry we are showing everything you need to see !
If Madain Saleh does not have as many tombs as Petra it has a special feature with the numerous inscriptions written on the monumental tombs.
ELEPHANT ROCK
After we finish our tour we will take you to the Elephant Rock, also known as Jabal AlFil, one of AlUla's many geological marvels. Unlike the ornate, hand-carved facades of nearby Hegra's Nabataean tombs, the "trunk" and "body" of this monolithic red sandstone beast were hewn by natural forces millions of years of wind and water erosion. The beauty of the unrefined structure is enhanced by its surroundings of a fine-sand sea studded with rocky outcrops, many of which are equally impressive in size and have interesting shapes and figures.
The area has very nice atmosphere with a cafe and restaurant, the seating area are build underground filled with magical lights that its just wonderful to witness the sunset.
Meals :
Breakfast
DAY 6 ALULA - MADINAH
AlUla to Madinah
3 hr 37 min (331 km)
Madinah tour
The first place visited is The Prophet mosque expansion exhibition which is located right in the area of the Holy Mosque where you can take pictures of it before we move to our next stop.
Next we will go to Qiba Street which connect two Mosques, the Holy Mosque and Qiba Mosque which both have significant importance in Islamic history in which the first was the house that prophet Mohammed lived and eventually was buried. The second was the first Mosque ever built. You will have a general overview how the city was built and shaped throughout the 1400 years. (Both mosques will be visited from outside only)
In the same street which is a nice pedestrian street for walking, there are many traditional food shops and snacks where will stop for our lunch break. After finishing our tour we will be heading to our hotel to spend the night and get some rest.
Meals :
Breakfast
Accommodation :
Madinah for 1 night
DAY 7 MADINAH - JEDDAH
Train do Jeddah
Al Balad Tour (Jeddah Historical City)
Today we will explore and understand the country through its diverse and rich culture of food and people.
We will start our tour in Al Balad as local call it which means "the town" as reference to the base of Jeddah. Al-Balad was founded in the 7th century and historically served as the center of Jeddah. Al-Balad's defensive walls were torn down in the 1940s. In the 1970s and 1980s, when Jeddah began to become wealthier due to the oil boom, many Jeddawis moved north, away from Al-Balad. Al Balad is registered as a world heritage UNISCO site and since then the old buildings with its unique window designs and doors are being preserved along with its unique buildings which some have been built using sea shells and stones!. The old buildings once housed the famous Jeddah families and hosted the founder the late King Abdulaziz when first entered Jeddah. Our tour will go through the history of these building including going inside one of the buildings to see the interior designs, furniture and life back then, we will also explain the historical importance of some sites and locations while we wonder around the narrow streets to explain how merchants used to sell their goods and how pilgrims used to get their supplies of cloth and food before they head to Makkah through the Makkah Gate in Al Balad.
The old Mosques is another tourist attraction where some were founded over 300 years ago and still functional as a mosque. The main attraction in this tour is the food and snacks of Al Balad where we will pass by some famous vendors known to offer the best local snacks such as the local drink made of bread "Sobia" and the old bakery which its famous for its fresh bread. Another local snack is fresh chickpeas and pickles "Balilah". We will stop for rest in one of the local open-air coffee shops and try famous local tea mixed with milk and herbs. Then we will visit the center of Al Balad to see the first hotel built in Jeddah influenced by Italian architecture then pass by the first school built in Saudi. We will also visit one of the art houses and museum offering its unique local art collection and antiques.
Meals :
Breakfast
Accommodation :
Jeddah for 1 night
DAY 8 JEDDAH - DEPARTURE
Today where we say goodbye, we will be dropping you off to the airport according to your flight schedule.
Meals :
Breakfast
| | |
| --- | --- |
| Rates in CA$, per person, starting from, in double occupancy | Land Package |
| Daily departures until December 20th, 2023 | 3* hotels |
| 2 pax | 7789 |
| 4 pax | 5869 |
| Single occupation supplement (with minimum 2 pax traveling) | +765 |
**Prices in this document are for information only; they were issued at press time, for the current year. Please note that due to exchange rates and temporary promotions, they can increase or decrease at any time. Contact your travel agent for the price and promotion of the moment The prices indicated exclude the contribution to the Customer Compensation Fund of $3.50 per $1,000 of tourism product or service purchased from a travel agent in Quebec.