Duration
13 Days/12 Nights
Travel Type
Escorted Tour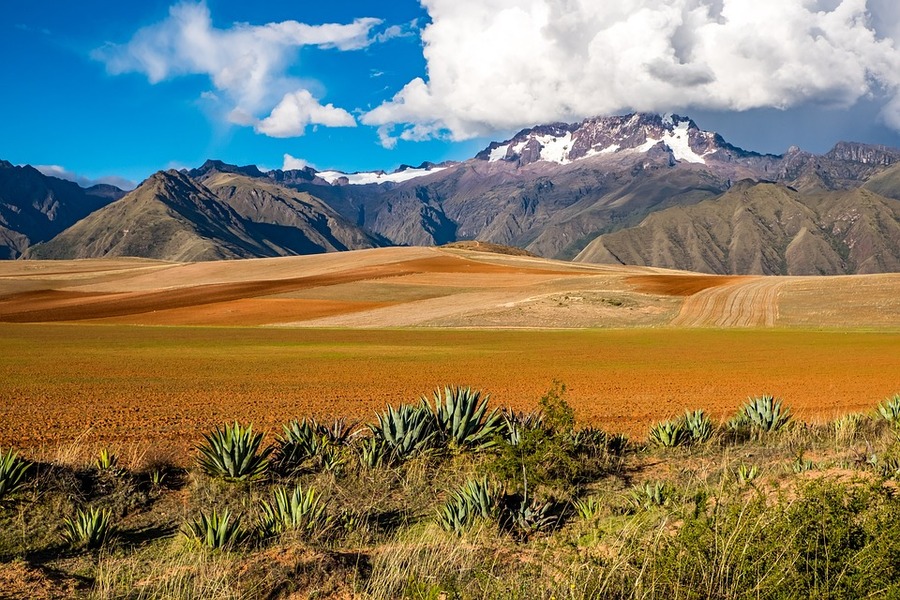 A country that is dominated by the altiplano (high mountain plateau), yet possessing plains and valleys, and whose ethnic roots are Aymara. It boasts a mixed legendary heritage that both grants the country its identity and engages it in a deeply rooted syncretism. Bolivia is Lake Titicaca, the Uyuni salt flats, the Andes, and the Amazon. You can find lovely churches, mansions, and monuments that are part of the country's cultural heritage. Go and visit the cities of Sucre, La Paz, Santa Cruz, for you will surely stumble across a festival or two in some of these destinations because Bolivia is world famous for its folklore and its dances.
Highlights:
– Visit the three main regions of Bolivia: the lowlands, the valleys and the highlands.
– UNESCO World Heritage: Inca ruins of Samaipata, cities of Sucre & Potosi.
– Uyuni Salt Flats: over 12.000 km² pure salt! Largest salt flat in the world!
– Discover the coloured volcanoes and lagoons of Eduardo Abaroa National Reserve!
– La Paz: will take your breath away!
– Titicaca Lake: Highest navigable lake in the world!

Inclusions
Accommodation for 12 nights in double occupancy
23 meals: 12 breakfasts, 6 lunches, 5 dinners
Domestic flights
Roundtrip transfers
Meet and greet by our representatives
Shared service from Sucre-Pontosi-Uyuni
Visits as per itinerary
English-speaking local guides
Taxes and fees
Exclusions
International airfare – Gratuities to guides, drivers and hotel personnel – Optional excursions
DAY 1 SANTA CRUZ
Upon arrival, on the first day of your trip to Bolivia, you will be welcomed by our personnel at Viru Viru International airport and transferred to your hotel. Afternoon free. Optional tours available ($).
Accommodation :
Santa Cruz for 2 nights
DAY 2 SANTA CRUZ - SAMAIPATA - SANTA CRUZ
Trip through the Amazon plains and last branches of the Andes range. Visit the Samaipata ruins, majestic and mysterious pre-Inca fort, located in the top of a hill with a big ceremonial center carved in stone. Finally, to Samaipata, a stroll of town and its local museum. Return to Santa Cruz.
Meals :
Breakfast, Lunch
DAY 3 SANTA CRUZ - SUCRE
In the morning, flight to Sucre (colonial city, declared Cultural Heritage site by UNESCO) with both transfers. In the afternoon, city tour. This tour includes the visit of: Casa de la Libertad, where the Act of Independence of Bolivia was signed in 1825; Bolivar Park, to see examples of the aristocratic tradition of Sucre, with small replicas of the Eiffel Tower and the Arc of Triumph of Paris; the church and museum of La Recoleta, and the museum of Indian Textiles ASUR.
Meals :
Breakfast
Accommodation : Sucre for 2 nights

*Recommended departure flight Santa Cruz – Sucre time around 9.00 am
DAY 4 SUCRE
Free day in Sucre. Optional tours available ($).
Meals :
Breakfast
DAY 5 SUCRE - POTOSI
After breakfast, departure by regular bus following different valleys to ascend through the highlands to the city of Potosi, declared a Cultural and Natural Heritage site by the UNESCO. In the afternoon, visit the traditional colonial streets, San Francisco and San Lorenzo (its façade) churches and also a mine in Cerro Rico. This excursion allows the visitors to experience an unforgettable trip hundreds of meters underground, to see the living and working conditions of the Bolivian miners (protective clothing and helmets are provided). The silver mine is in the famous Cerro Rico, once the richest of the world.
Meals :
Breakfast
Accommodation :
Potosi for 1 night
DAY 6 POTOSI - UYUNI - VILLAMAR
Morning regular bus trip to Uyuni, crossing branches of the Andes range, old mining centers and villages, with nice landscapes and Indian communities. Arrival and continue the trip south visiting first the cemetery of old trains, then through the highlands passing the villages of San Cristobal and Culpina K until the high and rich valley of Alota (3 hours), then areas with great stone formations done by the erosion. Continue through high valleys until the village of Villamar (1 hour).
Meals :
Breakfast, Lunch, Dinner
Accommodation :
Villamar for 1 night
DAY 7 VILLAMAR - COLORFUL LAGOONS - SAN JUAN
Early morning trip entering the REA (National Reserve Eduardo Abaroa). Pass alongside Challviri lagoon, with its hot spring in the shores of Polques. Cross through the high desert of Pampas de Dali with amazing views, to reach Laguna Verde (3 hours) in the foothills of the Licancabur Mountain. Trip back to Laguna Colorada, declared a RAMSAR site due to the nesting of over 30,000 flamingos at 4,278 meters heigh. Then up to geysers "Sol de Mañana", enter the high deserts of Siloli, visiting Arbol de Piedra (Stone Tree). Continue through the minor lagoons of Ramaditas, Honda, Chiarkhota, Hedionda and Cañapa until arriving to the Village of San Juan.
Meals :
Breakfast, Lunch, Dinner
Accommodation :
San Juan for 1 night
DAY 8 SAN JUAN - UYUNI SALY FLATS - COLCHANI
North through the highlands passing the villages of San Agustin and San Juan (2 hours), entering in Chuvica to the great Uyuni salt flat crossing to "Isla Incahuasi" (1 hour), a special habitat of volcanic rocks and giant cactus. Lunch will be served in the middle of the salt desert. Continue east to the village of Colchani (2 hours), where the locals produce salt. Enjoy a great sunset. Overnight in salt hotel.
Meals :
Breakfast, Lunch, Dinner
Accommodation :
Colchani for 1 night
DAY 9 COLCHANI - LA PAZ - COPACABANA - SUN ISLAND
Transfer out to the airport for the flight to La Paz. Arrival and private transfer to Titicaca Lake. Trip going north through the highlands and parallel to the Andes Royal Range to Copacabana (3 hour and a half), a nice town in the shores of Lake Titicaca. Visit the famous Virgen Morena and its church, have a stroll in the town. Take the boat to the Island of the Sun (1 hour), land in Huacani port, have a typical lunch called "Aptapi". By boat back to Pilkokaina Ruins, in the southern part of the island. From here, hike for about 1-hour 15min to the Lodge.
Meals :
Breakfast, Lunch, Dinner
Accommodation : Sun Island for 2 nights

*Recommended departure flight Uyuni – La Paz time around 8.00 am
DAY 10 SUN ISLAND
Free day on Sun Island to enjoy this peaceful place. Optional hikes are available ($).
Meals :
Breakfast, Dinner
DAY 11 SUN ISLAND - MOON ISLAND - COPACABANA - LA PAZ
Don't miss a great sunrise! Walk down the Inca Steps to the Island's main port, Yumani. Take the boat to the Moon Island (30min), visit the "Iñak Uyu" ruins, an Inca temple also called Palace of the Virgins. Boat back to Copacabana (1 hour). Shared bus to La Paz (3 hour and a half).
Meals :
Breakfast, Lunch
Accommodation :
La Paz for 2 nights
DAY 12 LA PAZ
After breakfast, you will participate in a unique visit to the popular neighbourhoods and markets of La Paz, guided by a "lustra bota" or shoe-shiner will provide different impressions of this unique city. We will meet our "lustra guide" outside the former train terminal of La Paz. We will hop on, on one of the many telefericos (cable cars) lines this vibrant city has, the red line, and get off where our walking tour starts, the main cemetery. After a short visit, we continue walking to the "Fish Street Market", the "Flower Market" and the "Uruguay Market" where various species of animals and food can be seen. The tour continues to Eloy Salmón Street, lined with shops and stalls selling the latest technology and to the "Cholitas Market" where Cholitas (local ladies) can be seen shopping for traditional skirts and blankets. The tour concludes at the famous witches' market on Linares and Sagarnaga Streets where we will learn a little bit of Andean cosmovision. Afternoon free. Optional tours available ($).
Meals :
Breakfast
DAY 13 LA PAZ
At a coordinated time, transfer to the airport for your international flight.
Meals :
Breakfast
Rates in CA$, per person, starting from, in double occupancy

Land Package
Daily departures 2023
Regular tour
2* and 3* Hotels
May 1st – December 23
4359
4* Hotels
May 1st – December 23
4729
Single room supplement, or single passenger
On request
Note: Seasonal surcharges may apply.
Regular: Transfers and excursions in a group min. 2 max 12
**Prices in this document are for information only; they were issued at press time, for the current year. Please note that due to exchange rates and temporary promotions, they can increase or decrease at any time. Contact your travel agent for the price and promotion of the moment. The prices indicated exclude the contribution to the Customer Compensation Fund of $3.50 per $1,000 of tourism product or service purchased from a travel agent in Quebec.