Travel Type
Escorted Tours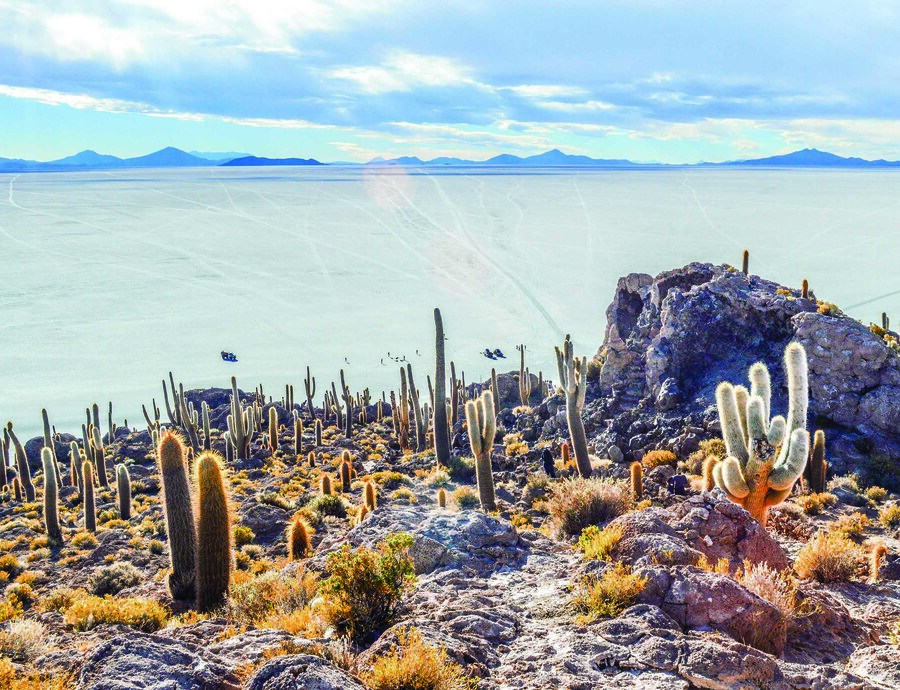 Bolivia is a very rich country if we talk about cultural, natural and gastronomical diversity. In this program, we are going to discover a little bit of the immense treasures that the country has. We will explore the mystical Sun Island located on Lake Titicaca, travel through a vast and infinite salt desert in Uyuni and we will be trapped by La Paz, a wonderful city that will take our breath away. We will live this experience at the highest level!
Inclusions
Accommodation for 6 nights in double occupancy
14 meals: 6 breakfasts, 4 lunches, 4 dinners
Domestic flights
Roundtrip transfers
Meet and greet by our representatives
Private visits as per itinerary
English-speaking local guides
Taxes and fees
Cooler snack during the tours : During your visits you will have a cooler at your disposal to enjoy some snacks and refreshing drinks. (Nuts, chips, bottled water, sodas, beer or bottle of wine)
Welcome kit: We want your stay to be pleasant, that is why we include a welcome kit with products that will be useful to you during your trip. (Aluminum bottle from Senda Verde (NGO), antibacterial gel, chapstick, sunscreen, tissues.
Gift Kit: In this gift kit we want to give you beautiful Bolivian items so you do not forget the best moments you had during your trip. (Bolivian cacao chocolate bar, local export coffee bag, 100% cotton socks with local motifs, gourmet salt from Uyuni)
Exclusions
International airfare – Gratuities to guides, drivers and hotel personnel – Optional excursions – Beverages
DAY 1 LA PAZ
Upon arrival, on the first day of your trip to Bolivia, you will be welcomed by our personnel at International airport and transferred to your hotel for rest and acclimatize to the altitude.
Accommodation :
La Paz for 2 nights
DAY 2 LA PAZ
City tour (half day). We will enjoy a beautiful tour of La Paz, chosen as one of the seven wonders cities of the world. Start in the center visiting the main square: Plaza Murillo where the Government Palace and the National Congress are located. Continue towards the traditional Jaén Street and then visit the Museum of Ethnography and Folklore (MUSEF), which has a wide collection of pre-Hispanic, colonial and contemporary relics. Then, visit the famous Witches Market where we will find handicrafts, textiles and witchcraft products. As a last stop in the colonial part, we will go to the Basilica of San Francisco that dates from the 18th century. To end the tour, take an impressive cable car ride to the southern area of the city and visit the Valley of the Moon, famous for its rock formation product of the erosion. PM: free afternoon or optional tours ($). At night, we will have a gastronomic experience in one of the best restaurants in Bolivia: "Gustu". Here, we will have a cooking class with local ingredients and end the activity with a three-course menu with wine pairing.
Meals :
Breakfast, Dinner
DAY 3 LA PAZ - COPACABANA - SUN ISLAND
Early departure from La Paz. We will arrive in Copacabana and visit its incredible church with the famous "Black Madonna". Here, we will stroll in the town and then take a private boat to Sun Island. After lunch, (typical "Apthapi") we will continue the trip to the ruins of the Inca temple of Pilkokaina and then we will make a pleasant walk (1.5 hours) to La Estancia Ecolodge with wonderful views of Lake Titicaca and the Royal Andes Range. The Apthapi is a celebration where food is shared. The name comes from the Aymara language and means "to bring". Each person of the community brings a food (potatoes, fish, corn, cheese, etc.) and shares it among all the guests accompanied by delicious peppers.
Meals :
Breakfast, Lunch, Dinner
Accommodation :
Sun Island for 1 night
DAY 4 SUN ISLAND - COPACABANA - UYUNI
Don't miss a beautiful sunrise! After breakfast, we will start with the textile activity. A group of three artisan women, dressed in their traditional attire, show up with their tools and materials. They will show and interpret local textile art for the elaboration of handicraft products through various techniques such as loom with stakes or macramé. After the activity, we will hike to Yumani (30 min.) and visit the Garden of the Incas where the famous Fountain of Youth is located. We continue by boat to visit the Island of the Moon and the Inca ruins of the Iñak Uyu temple. Next, by boat back to Copacabana and here we will board our transport to the airport. Flight to Uyuni. Arrival and transfer to the hotel.
Meals :
Breakfast, Lunch, Dinner
Accommodation :
Uyuni for 1 night
DAY 5 UYUNI - JIRIRA
Visit the Train Cemetery, this place is known for the remains of steam locomotives that have persisted since the 19th and 20th centuries. Later, in Colchani we will observe the salt extraction methods used by the local people. Then, we will enter the incredible Salar de Uyuni, with more than 10,500 km2 of pure salt. Unique experiences like having lunch in the middle of the salt flats await us! Afterwards, we will head north where Kachi Lodge is located, at the foot of the Tunupa volcano. Enjoy a beautiful sunset where the different colors that paint the sky can be appreciated making a magnificent landscape. Taste a gourmet dinner made only with Bolivian ingredients. To end the day we will be able to see a magical show of stars in one of the clearest skies.
Meals :
Breakfast, Lunch, Dinner
Accommodation :
Jirira
DAY 6 JIRIRA - UYUNI - LA PAZ
We will start the day with a delicious breakfast in the main dome of the lodge. Afterwards, continue the trip visiting the pre-Columbian fortress Pucara de Ayque and the nearby chullpares. We will continue our journey to Incahuasi Island, which is a unique oasis and isolated ecosystem that is populated by giant cactuses up to 10 meters high, amazing! (hike approx. 1 hour) Again, enjoy a beautiful sunset in the middle of the salt flats to say goodbye to one of the most beautiful views that will remain in your memory. Then, transfer to the airport for the flight to La Paz. Arrival in La Paz, transfer to the hotel.
Meals :
Breakfast, Lunch
Accommodation :
La Paz for 1 night
DAY 7 LA PAZ
At a coordinated time, transfer to the airport for your international flight.
Meals :
Breakfast
Rates in CA$, per person, starting from, in double occupancy

Land Package
Daily departures 2023
Private
May 1st – December 23
5479
Single room supplement or single passenger
On request
Note: seasonal charges may apply.
**Prices in this document are for information only; they were issued at press time, for the current year. Please note that due to exchange rates and temporary promotions, they can increase or decrease at any time. Contact your travel agent for the price and promotion of the moment. The prices indicated exclude the contribution to the Customer Compensation Fund of $3.50 per $1,000 of tourism product or service purchased from a travel agent in Quebec.