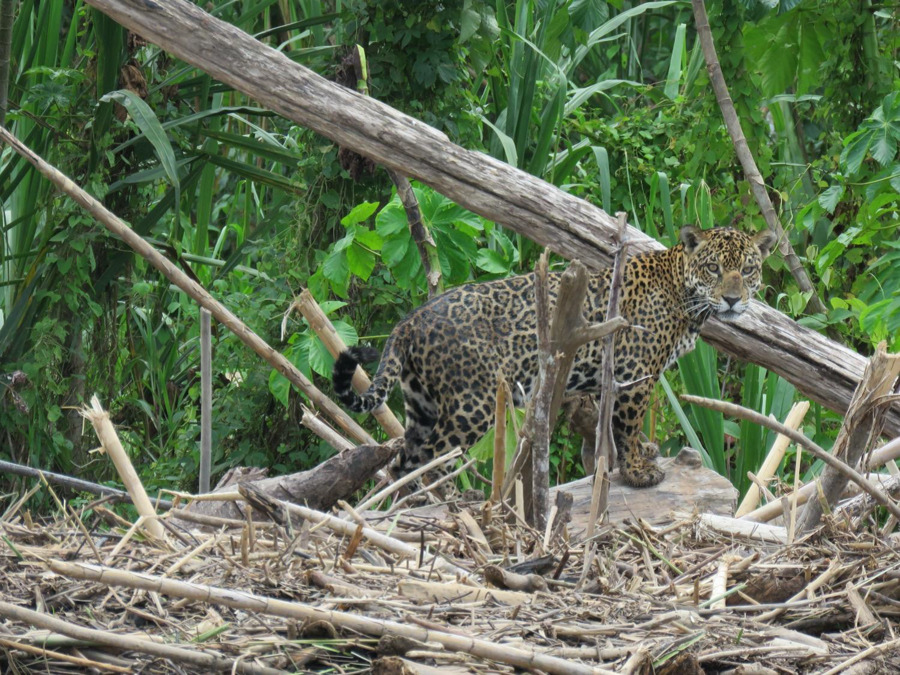 Welcome to the magical Bolivian Amazon! Madidi National Park is one of the most biodiverse places in the world. The park holds over 1200 different bird species, over 2000 animal species and 5000 different plants. This program will take us deep into the national park, exploring the jungle during day and night, meeting the inhabitants of San Jose de Uchupiamonas , the main community within the park, and discovering many hidden secrets along the way! In this expedition, we will support the locals of San Jose, not only by spending a night with them, but also sleeping a couple of nights in comfortable lodges that belong to local developments. The staff working there (guide, the co ok, the boat driver) all come from San Jose. To make this journey even more interesting, we will also have the chance to spend a few nights in tents hanging from trees!
Inclusions
Accommodation for 6 nights in double occupancy
19 meals: 6 breakfasts, 7 lunches, 6 dinners
Domestic flights
Roundtrip transfers
Meet and greet by our representatives
Private visits and excursions as per itinerary
Tour conductor in English language throughout the trip
Taxes and fees
Exclusions
International airfare – Gratuities to guides, drivers and hotel personnel – Optional excursions
DAY 1 LA PAZ - SADIRI
Flight from La Paz to Rurrenabaque. Upon arrival in Rurrenabaque, transfer from the airport to the port to take a 5-minute boat ride to San Buenaventura, a small town across Rurrenabaque. From here, we will be transferred by car to our next location, Sadiri Lodge. The lodge is located at the entrance of Madidi National Park and its speciality is to look after birdwatchers. We will also take short hikes around the lodge.
Meals :
Lunch, Dinner
Accommodation :
Sadiri
DAY 2 SADIRI - SAN JOSE DE UCHUPIAMONAS
Trekking from Sadiri Lodge to San José de Uchupiamonas. We will hike around 6 hours (28km) from Sadiri to San José de Uchupiamonas. San José is the most important town within Madidi National Park. Once we arrive in San José, we will get to know the locals and make ourselves comfortable in their houses, where we are going to spend the night. Dinner will be served in a common area and we will be able to share nice jungle experiences with them!
Meals :
Breakfast, Lunch, Dinner
Accommodation :
San Jose De Uchupiamonas
Optional Excursions : Hike Sadiri – San Jose de Uchupiamonas: 6 hrs/28 km
Support vehicle available
DAY 3 SAN PEDRO DE UCHUPIAMONAS - CHALALAN
After breakfast, served at each house where you will be staying, we will depart by boat to Chalalan on one of the most beautiful rivers Bolivia has, the famous Tuichi river. The boat ride takes about 2 ½ hours and with a little luck we will see some of animals Madidi National Park has to offer. Once we arrive at Chalalan's port, we will walk 30 minutes through the jungle until arriving to the lodge. The lodge is also located within the park and has the most beautiful lake! We recommend you take the lodges' canoes and sail in late afternoon around the lake and you will most certainly see different types of monkeys! An amazing experience! By night we can either take the boat again and look for alligators, or have a night hike around the lodge discovering nocturnal wildlife. We could find some praying mantis, sword nose bat and a variety of tarantulas.
Meals :
Breakfast, Lunch, Dinner
Accommodation :
Chalalan for 2 nights
Optional Excursions : Boat time Chalalan – Santa Rosa: 20 min.
Hike Port – Santa Rosa : 30 min.
Optional afternoon & night hikes
DAY 4 CHALALAN
Today, we will stay in Chalalan's surroundings and enjoy the area. It has many different, well-marked hiking trails in the surroundings of the Lodge. According to our wishes and our desires, we can do a couple of these trails. Everything, of course, has to be in agreement with the guide. Recommended is the hike to the other side of the lake up to the viewpoint of Chalalan lake! Afternoon free to relax, take a quick swim in the lake or enjoy another hike with our guide. At night, we could repeat one of the activities we did the night before, pick another one or simply just rest in our comfortable cabins.
Meals :
Breakfast, Lunch, Dinner
Optional Excursions :
Hike: 2 to 5 hrs
DAY 5 CHALALAN - REFUGIO MASHI
Today we will head south towards Refugio Mashi, near Chalalan, where we are going to spend the next couple of days. After breakfast, we will take a short hike to the port and take, once again our motorboat for around 20 minutes downriver. Arrival at the Refugio's port and walk through the Wabu path until we reach the camp on the banks of Mashi lagoon. This hidden place also has many enjoyable hiking trails, for example the Lucachi trail where we are going to hike for around 3 hours and we will see a labyrinth of exotic trees and plants that lead to the nesting place of some bird species, such as, the red macaw, blue-yellow macaw and other smaller birds from the same family. During the tour, you will have the opportunity to observe an endemic specie of the Madidi, the lucachimonkey. We will then walk back to the camp. After dinner we will have the opportunity to join a night walk into the jungle.
Meals :
Breakfast, Lunch, Dinner
Accommodation :
Refugio Mashi for 2 nights
DAY 6 REFUGIO MASHI
After breakfast, we will enjoy a walk along the Tejón trail, for about 3 hours. In this trail we will have the opportunity to see peccaries, capuchin monkeys and red howler monkeys. And to make it even more interesting, we will learn about different species of trees within the primary forest, some of them being more than 300 years old. Some of these species have a higher value in the market than gold. Some of these giants are the famous mara tree and cedar. There will also be an opportunity to spot a variety of birds, such as macaws, toucans and the ancient bird of serere. We will then walk back to the camp. We will enjoy lunch at the camp and will have some time to recover some energy before going ahead and explore the jungle. After lunch, we will have some time on the Mashi lagoon. This is going to be the perfect time to go fishing for piranhas. If we get some good fish, we will take them for dinner. At night we will enjoy a cultural talk with our guides. They will share some local tales and legends of their communities.
Meals :
Breakfast, Lunch, Dinner
DAY 7 REFUGIO MASHI - RURRENABAQUE - LA PAZ
05:00 AM wake up to move on to Tuichi river to see the sunrise in the jungle, listen to the different sounds of it, identifying some species of birds, insects and mammals. Then, we will return to the camp for breakfast. This is the time of the day when the red howler monkeys start singing, calling for females. Birds will join to the orchestra to indicate that a new day has begun. We will start walking into the Piwarola trail where we will learn about medicinal and poisonous plants and how the communities use them as medicine and food. Later we will move back to the camp for lunch. After lunch we will return to Rurrenabaque taking the Wabu trail to the port in Tuichi river where our boat will depart on the way to Rurrenabaque. We will be in the town at 16:30 so that you can catch the latest flight back to La Paz.
Meals :
Breakfast, Lunch
Optional Excursions : Boat time Santa Rosa – Rurrenabaque: 3 hrs
Hike: 2 hrs
Rates in CA$, per person, starting from, in double occupancy

Land Package
Daily departures 2023
Private
May 1st – December 23
3449
Single room supplement, or single passenger
Note: Seasonal surcharges may apply.
**Prices in this document are for information only; they were issued at press time, for the current year. Please note that due to exchange rates and temporary promotions, they can increase or decrease at any time. Contact your travel agent for the price and promotion of the moment. The prices indicated exclude the contribution to the Customer Compensation Fund of $3.50 per $1,000 of tourism product or service purchased from a travel agent in Quebec.