Travel Type
Escorted Tour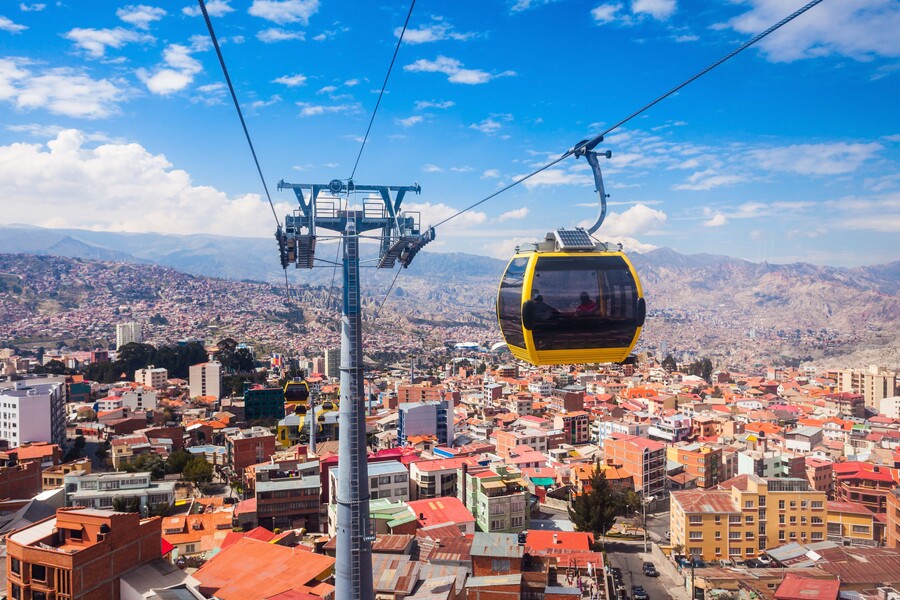 Embark on this journey and discover the most emblematic attraction of Bolivia. From the Titicaca Lake to the Salt flats of Uyuni, this tour will not cease to amaze you with the natural beauty, the culture and history the country have to offer.
Highlights:
– Titicaca Lake – Highest navigable Lake in the World!
– La Paz will take your breath away!
– Uyuni Salt Falts: over 12.000 km2 pure salt! Largest Salt Flats in the World!
– UNESCO World Heritage: Tiwanaku

Inclusions
Accommodation for 5 nights
10 meals: 5 breakfasts, 3 lunches and 2 dinners
Domestic flights
Roundtrip transfers airport-hotel
Meet and greet by our representatives
Private transportation (boats in Lake Titicaca will be shared only with passengers of our land supplier and if they have the same itinerary)
Visits as per itinerary
Local English-speaking guides
Taxes and fees
Exclusions
International airfare – Meals unless otherwise noted – Gratuities – Beverages – Optional excursions
DAY 1 PUNO - COPACABANA - SUN ISLAND
Trip by private transport from Puno with a wonderful view of Lake Titicaca along the route (3 hours) until Copacabana (3 hour and a half), a pleasant town in the shores of Lake. Visit to its church and the famous Virgen Morena. Trip by boat crossing the Lake to the Island of the Sun (1 hour) until Huacani to have an Aptapi (typical lunch in the highlands), this trip continues by boat up till to the ruins of Pilkokaina Inca temple Finally hike to La Estancia with a wonderful view of Lake Titicaca (1 hour and a half approximately).
Meals :
Lunch, Dinner
Accommodation :
Sun Island for 1 night
DAY 2 SUN ISLAND - MOON ISLAND - COPACABANA - LA PAZ
Don't miss an early sunrise! Hike down through Yumani visiting the Inca stairs and the Water of the Eternal Youth, then have a trip to the Island of the Moon (30 minutes) and the Inca ruins of Iñak Uyu temple to finally reach Copacabana (1 hour and a half). Private transportation to La Paz (3 hour and a half) with very nice views of the Andes Royal Range crossing Tiquina strait (the narrowest part in the Lake -30 minutes by motorized wooden boat). Cable car (Teleférico) from El Alto city to La Paz one, the ride is a good choice to discover an excellent and beautiful view of La Paz. This trip is a must for everyone!
Meals :
Breakfast, Lunch
Accommodation :
La Paz for 2 nights
DAY 3 LA PAZ
A four hours city tour through La Paz, elected as one of the 7 wonder cities in the world. It is in a valley at the foothills of the Andes Range, situated at 3,632m / 11942 ft. above sea level. The tour goes through the street markets rich in handicrafts, weavings and witchcraft items, followed by a visit to the colonial section of the city, San Francisco Church, Gold Museum, Murillo Square also visit to the viewpoint "Mirador de Killi Killi"; and the outdoor replica of Tiwanaku temple. Then descending to the more modern, southern part of La Paz to reach and visit the Valley of the Moon, where a clay mountain has been impressively shaped by erosion.
Meals :
Breakfast
DAY 4 LA PAZ - UYUNI SALT FLATS - COLCHANI
Transfer to the airport to take flight to Uyuni. Meeting at Uyuni's airport on arrival. At 10:00 a.m. departure from Uyuni to the great salt flats; visit on the way, the train cemetery where the remains of 19th and 20th century steam locomotives are. Stop in Colchani as this is the best place to observe the methods of salt extraction; next to Incahuasi Island (known as Fish Island), this is an oasis with a unique and isolated ecosystem that is populated by giant cactus up to 10 meters high. Then, continue north to the mummies of Pukara de Ayque. Finally, at appropriate time go back to Uyuni village.
Meals :
Breakfast, Lunch, Dinner
Accommodation :
Colchani for 1 night
DAY 5 COLCHANI - UYUNI - LA PAZ - TIWANAKU
Transfer from Colchani to Uyuni's airport to take a flight back. On arrival to La Paz meeting at the airport to take a tour to Tiwanaku ruins, they are at 1 hour and a half drive from La Paz (72 km/45 miles), throughout which the highlands are passed, and the Aymaran way of life can be seen. Tiwanaku dating back to 400AC - 1100AC, was one of the most important pre-Inca civilizations and considered to be among the most developed at the time. The main constructions visited during this tour are: Kalasasaya temple and the Gate of the Sun constructed out of stone, Ponce and Fraile monoliths; the Akapana pyramid and the semi-underground temple. Two local museums to view pottery, stone work and learn about the culture are also included on this trip.
Meals :
Breakfast
Accommodation :
La Paz for 1 night
DAY 6 LA PAZ
At a coordinated time, transfer to the airport for your international flight.
Meals :
Breakfast
Rates in CA$, per person, starting from, in double occupancy

Land Package
Daily departures 2023
Private
2/3* Hotels
May 1st – December 23
2689
4* Hotels
May 1st – December 23
2679
Single room supplement or single passenger
On request
Note: Seasonal surcharges may apply.
**Prices in this document are for information only; they were issued at press time, for the current year. Please note that due to exchange rates and temporary promotions, they can increase or decrease at any time. Contact your travel agent for the price and promotion of the moment. The prices indicated exclude the contribution to the Customer Compensation Fund of $3.50 per $1,000 of tourism product or service purchased from a travel agent in Quebec.