Duration
11 Days/10 Nights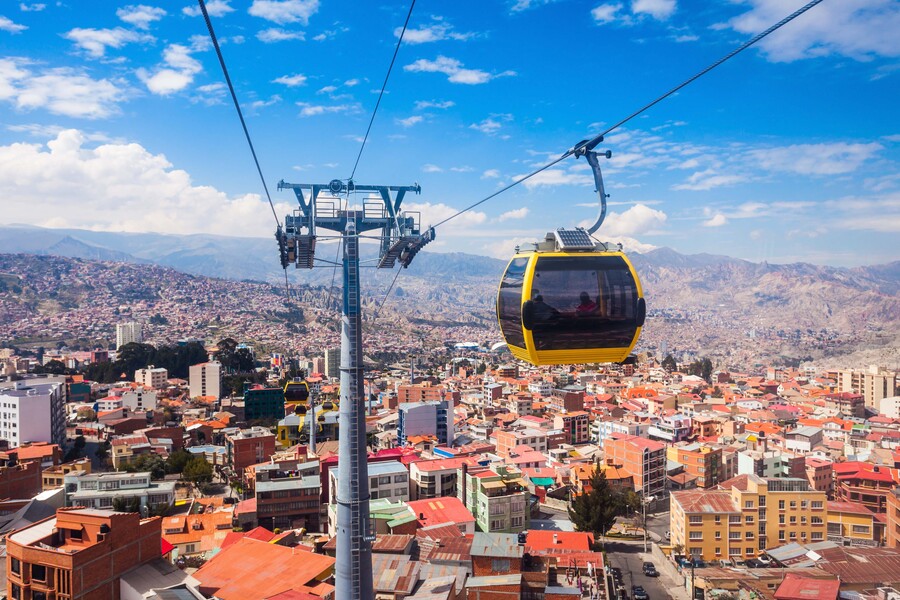 Beautiful landscapes throughout the country, colonial cities such as Sucre and Potosi, incredible places like the famous Uyuni Salt Flats and the sacred Titicaca Lake with its mystic Sun Island are only a few of the highlights you will find during this amazing Bike and Hike trip. Discover the true soul of Bolivia!
**BEST TIME TO TRAVEL IS BETWEEN APRIL AND NOVEMBER**
Inclusions
Biking: 200 km (approx.)
Hiking: 50 km / 9 hrs (approx.)
Accommodation for 10 nights in double occupancy
21 meals: 10 breakfasts, 6 lunches, 5 dinners
Domestic flight from Uyuni to La Paz
Roundtrip transfers
Meet and greet by our representatives
Private visits and excursions as per itinerary
English-speaking local guides
Tour conductor in English language throughout the trip
Taxes and fees
E-bike and mountain bike rental
Support vehicle for biking part of the trip
Exclusions
International airfare – gratuities to guides, drivers and hotel personnel – optional excursions
DAY 1 SUCRE
Upon arrival, on the first day of your trip to Bolivia, you will be welcomed by our personnel at International airport and transferred to your hotel. Afternoon free.
Accommodation :
Sucre for 3 nights
DAY 2 SUCRE
This day we will get our first impressions of the bikes we will use during this trip. We will learn how to use them, and we will do it so by doing a bike city tour. We will start visiting the most iconic sites: la Casa de la Libertad, where the Act of Independence was signed in 1825. Bolivar Park, to see examples of the aristocratic tradition in Sucre with small replicas of the Eiffel Tower and the Arc of Triumph of Paris; the church and museum of La Recoleta, and the museum of Indian Textiles ASUR. PM optional tour to another interesting place to visit in the outskirts of the city of Sucre is the Dinosaur Park; in Cal Orck'o (Hill of Cal) at 5 km from the city, where there is a great variety and quantity of prehistoric animal tracks in different species. It is considered the largest sample of Dinosaur Footprints in the world; according to studies these prints belong to prehistoric animals that lived in this area for 65 to 70 million years.
Biking: 10 –15 km
Support vehicle available.
Meals :
Breakfast
DAY 3 SUCRE - MARAGUA - SUCRE
Today we will discover the beautiful surroundings of Sucre. We will drive by car to Chataquila (approx. 30 km) where we will start with our hiking tour for about 1.5 hrs down a beautiful pre-columbian road. Meet the team and hop on your bike. From here, we will continue with our bikes to Maragua's crater (approx. 27km). If we still have some strength left, then we can continue biking for about 7-10 km. Return with the car to Sucre.
Biking: 27 km
Car time: 3.5 hrs
Hiking Chataquilla: 1.5 hrs
Meals :
Breakfast, Lunch
DAY 4 SUCRE - POTOSI
Today we will go by car and bikes to another, like Sucre, UNESCO World Heritage city: Potosi (approx. 160 km/3 hrs by car). Located at 4,100 m.a.s.l. Potosi was once, during the colonial time one of the biggest city in the World, as big as Paris or London. During the trip, we will have the chance to hop on our bikes and enjoy the beautiful landscapes, as well as stroll around Potosi. After lunch in Potosi (not included) we continue to Hacienda Cayara (10 km from Potosi/30 min.), a truly colonial museum, where we will spend the night. Cayara's altitude is 3,550 m.a.s.l.
Biking: Sucre – Potosí: 55 km / Potosí – Cayara: 20 km
Car time: 4 hrs
Meals :
Breakfast, Dinner
Accommodation :
Potosi
DAY 5 POTOSI - UYUNI
Short hike around the Hacienda to discover a little bit more about this beautiful place. Again with cars, we will drive to the small town of Uyuni (approx. 205 km), gateway to the biggest salt flats in the World. During our tour, we will make a short stop and visit the Pulacayo mines, just before arriving at Uyuni. From Pulacayo, we will drive our bikes for 44 km until Uyuni Town. Visit also the Train Cemetery, this place is known for the remains of steam locomotives that have persisted since the 19th and 20th centuries, a perfect place to take cool pictures. Transfer to Colchani (3,556 m.a.s.l.)
Car Time: Potosí –Uyuni: 205 km (6 hrs. approx)
Biking: Pulacayo – Uyuni: 44 km
Meals :
Breakfast, Lunch, Dinner
Accommodation :
Uyuni for 2 nights
DAY 6 UYUNI
Today, we will spend a full day outside on the salt flats, biking on it as well as hiking (1 hr.) on Incahuasi Island, which is a unique oasis and isolated ecosystem that is populated by giant cactuses up to 10 m. high, amazing! We will live a unique experience having lunch in the middle of the salt flats! We will see a beautiful sunset where the different colors that paint the sky can be appreciated making a magnificent landscape. Then, we will return to Colchani and we will spend the night in a salt hotel. After dinner, we will drive with the cars back again to the salt flats to see a magical show of stars in one of the clearest skies.
Biking: 40 km
Car time: Uyuni Salt flats: 2.5 hrs
Hiking Incahuasi: 1 hr
Meals :
Breakfast, Lunch, Dinner
DAY 7 UYUNI - LA PAZ - SUN ISLAND
Transfer to Uyuni Airport and flight to La Paz. Transfer Airport La Paz – Copacabana – Sun Island. An enjoyable nice trip going north through the highlands and parallel to the Andes Royal Range until Copacabana, where we will visit its incredible church with the famous "Black Madonna". Here, we will stroll in the town and then take a private boat to Sun Island. After lunch, (typical "Apthapi") we will continue the trip to the ruins of the Inca temple of Pilkokaina and then we will make a pleasant walk to La Estancia Ecolodge with wonderful views of Lake Titicaca and the Royal Andes Range. The Apthapi is a celebration where food is shared. The name comes from the Aymara language and means "to bring". Each person of the community brings a food (potatoes, fish, corn, cheese, etc.) and shares it among all the guests accompanied by delicious peppers. Lake Titicaca: 3,812 m.a.s.l.
Car time: Airport – Copacabana 3 hrs
Boat time: Copacabana – Sun Island 1 hr
Hiking Pilkokaina – La Estancia Ecolodge: 1.5 hrs
Meals :
Breakfast, Lunch, Dinner
Accommodation :
Sun Island for 2 nights
DAY 8 SUN ISLAND - MOON ISLAND - SUN ISLAND
Don't miss a beautiful sunrise! After breakfast, we will start with the textile activity. A group of three artisan women dressed in their traditional attire show up with their tools and materials. They will show and interpret local textile art for the elaboration of handicraft products through various techniques such as loom with stakes or macramé. After the activity, we will hike to Yumani and visit the Garden of the Incas where the famous Fountain of Youth is located. We continue by boat to visit the Island of the Moon and the Inca ruins of the Iñak Uyu temple. Return to Sun Island, arrive to Huacani and have a Huatia (typical lunch cooked underground). Hike to Ecolodge La Estancia.
Boat time: Sun Island – Moon Island – Sun Island 1.3 hrs
La Estancia Ecolodge – Yumani 30 min.
Hiking Moon Island: 30 min.
Hiking Huacani – La Estancia Ecolodge : 30 min.
Meals :
Breakfast, Lunch, Dinner
DAY 9 SUN ISLAND - LA PAZ
Hike down to the port and trip by boat to Copacabana. Here,we will board the vehicle to La Paz. On the way, we will make a stop to hop on the blue and red cable car lines and have great views of the city of El Alto and La Paz, and then we will continue in our vehicle that will leave us at the hotel.
Hiking La Estancia Ecolodge – Port: 30 min.
Car time Copacabana – La Paz: 3.5 hrs
Meals :
Breakfast, Lunch
Accommodation :
La Paz for 2 nights
DAY 10 LA PAZ
SHOESHINERS TOUR
A unique visit to the popular neighborhoods and markets of La Paz, guided by a "lustra bota" or shoe-shiner will provide different impressions of this unique city. Meeting with the "lustra guide" outside the former train terminal of La Paz. Hop on, on one of the many telefericos (cable cars) lines this vibrant city has, the Red Line, and get off where the walking tour starts, the main cemetery. After a short visit, continue walking to "Fish Street Market", the "Flower Market" and the "Uruguay Market" where various species of animals and food can be seen. The tour continues to Eloy Salmón Street, lined with shops and stalls selling the latest technology and to the "Cholitas Market" where Cholitas (local ladies) can be seen shopping for traditional skirts and blankets. The tour concludes at the famous witches' market on Linares and Sagarnaga Streets where we will learn a little bit of Andean cosmovision.
Hiking La Paz city: 3 hrs
Meals :
Breakfast
DAY 11 LA PAZ
At a coordinated time, transfer to the airport for your international flight.
Meals :
Breakfast
Rates in CA$, per person, starting from, in double occupancy

Land Package
Daily departures 2023
Private
May 1st – December 23
7699
Single room supplement, or single passenger
On request
Note: Seasonal surcharges may apply.
**Prices in this document are for information only; they were issued at press time, for the current year. Please note that due to exchange rates and temporary promotions, they can increase or decrease at any time. Contact your travel agent for the price and promotion of the moment. The prices indicated exclude the contribution to the Customer Compensation Fund of $3.50 per $1,000 of tourism product or service purchased from a travel agent in Quebec.