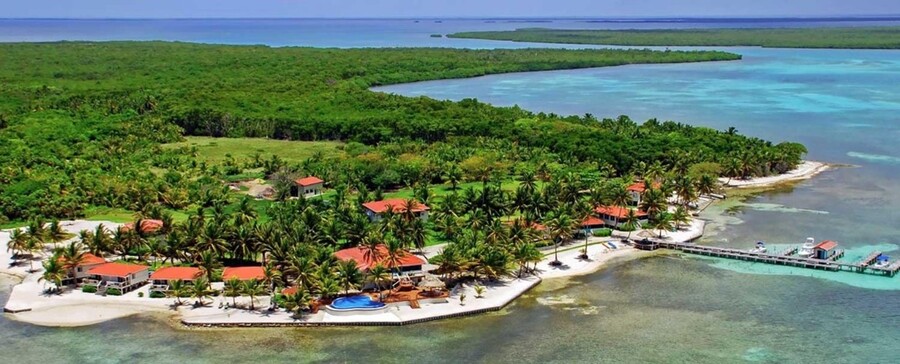 Explore the rich, mysterious Maya heritage of Belize while enjoying an all-inclusive Caribbean holiday vacation along the pristine, world heritage Belize Barrier Reef. Chaa Creek has teamed up with Turneffe Flats, one of the most highly regarded Belizean seacoast eco-resorts to develop an all-inclusive Caribbean vacation package guaranteed to provide relaxation while satisfying the adventurer in all of us.
Inclusions
Meet and greet at Belize International airport
All land and boat transfers
4-night accommodation in a Luxury Jungle Cottage at the Lodge in Chaa Creek
3-night accommodation in a Beach Cabanas at Turneffe Flats
Excursions and activities as per itinerary
20 meals: 7 breakfasts, 6 lunches, 7 dinners
Exclusions
International airfare – Optional excursions – Beverages
DAY 1 BELIZE INTERNATIONAL AIRPORT - CHAA CREEK RAINFOREST RESERVE
Welcome to Belize!
Meet and greet and transfer to your lodge.
Meals :
Dinner
Accommodation :
The Lodge at Chaa Creek, 4.5* for 4 nights or similar
DAYS 2 - 4 CHAA CREEK RAINFOREST RESERVE
CHOICE OF VARIOUS ACTIVITIES:
EXCURSION TO THE MAYA TEMPLES IN THE ANCIENT METROPOLIS OF TIKAL
Tikal National Park, the crown jewel of Mayan archaeological sites, has been fascinating visitors for over 100 years with its stunning beauty and sheer grandeur as it rises out of the lush jungle of Guatemala's Petén district. Once the sprawling capital of one of the greatest empires of the ancient Maya, Tikal National Park & Mayan Ruins was established well before the time of Christ. It flourished during the Maya Classic period of 200 to 900 AD and was the most important city-state in the Maya region, bouncing back from defeat by rivals Calakmul and Caracol and ruling a vast realm before suddenly falling into decline in the late 800s. At its height the city of Tikal had a population estimated to be as large as 90,000. Earthworks and other defence systems surrounded an area of some 120 sq km supplied by ingenious irrigation and agricultural systems which can still be seen today. The layout, beautiful architecture and scale of impressive buildings connected by wide causeways, the rich jungle life and the relaxed ambience make this an unforgettable experience. Today, Tikal National Park is a UNESCO world heritage area and national park, with 222 sq mi (576 sq km) area of unspoiled natural beauty and home to many exotic animals, including tapir, jaguar, crocodile, cougars, monkeys, coatimundi and other species as well as a colourful assortment of birds. It is the largest excavated site in the American continent, containing over 3000 structures and massive, beautiful temples rising 70 meters (230 feet) out of the dense jungle.
Tikal presents a rare opportunity to explore one of the world's most interesting ancient cities in a relaxed, breathtaking setting. Tours to Tikal National Park from Chaa Creek include a lovely 2 ½ hour drive through rural Guatemala with knowledgeable guides on hand to point out interests and make history come alive.
THE ANCIENT MAYA CEREMONIAL CAVES AT BARTON CREEK
Explore a stunning Maya ceremonial cave by canoe as licensed guides introduce you to one of Belize's most fascinating natural and cultural wonders during this remarkable half day excursion. The tour travels about a mile along a meandering river flowing through the beautiful cathedral -like chambers and wide passages of the Barton Creek Cave, which has become a popular attraction in recent years with high standards of safety and environmental protection. Our licensed guides are all highly trained in natural history and Maya cultural heritage, making a Barton Creek Cave tour both an educational and highly enjoyable experience. Enjoy the waterfalls and a refreshing swim or just relax with a packed lunch amid tropical beauty.
Barton Creek Cave was recently included in a list of "nine of the world's most beautiful and unusual cave destinations," by the highly regarded Mother Nature Network and no wonder – it is an amazing experience everyone - young and mature – will remember forever.
VISIT AT THE BELIZE ZOO
The Zoo began in 1983 when Sharon Matola started caring for animals that were left here after a movie and soon unwanted pets and injured animals were also donated to the Zoo. Many of the residents are endangered species such as the Jaribu Stork, Scarlet Macaw, Jaguar, Margay, and black Howler Monkey. Shortly after the "backyard zoo" began, it was quickly realized that Belizean visitors were unfamiliar with the different species of wildlife in their country. This very aspect enkindled the commitment to develop the little zoo into a dynamic wildlife education center. Today, the Belize Zoo is settled upon 29 acres of tropical savanna and exhibits over 125 animals all natives to Belize. A visit to the zoo is the best way to get an introduction to the animals of Belize, and to understand why it is important to protect the habitats that sustain them.
MAYA PYRAMID OF XUNANTUNICH
Xunantunich or Maiden of the Rock is situated on the Western Highway across the river from the village of San Jose Succotz. This major ceremonial center can be reached by ferry daily and it is only 1.5 Kilometer (one mile) from some lovely rapids of the Mopan River. This Classic Period site provides an impressive view of the entire river valley. The site core occupies only 300 square meters, but the periphery covers several square kilometers.
El Castillo rises 40 meters above plaza level, making it one of the tallest buildings in Belize. On this structure there are two temples. The lower temple is famous for its large stucco frieze. A mask with larger ears probably represents the sun god. Next to this mask, there is a moon sign with a border of signs representing Venus.
Guided tours of Chaa Creek's Natural History Centre and Hilltop Butterfly Exhibit.
Activities that include canoeing, nature walks, swimming and more.
Meals :
Breakfast, Lunch, Dinner
DAY 5 CHAA CREEK RAINFOREST RESERVE - TURNEFFE ISLAND
Transfer from Chaa Creek Rainforest Reserve to your hotel in Turneffe Atoll.
Meals :
Breakfast, Lunch, Dinner
Accommodation :
Turneffe Flats, 4.5* for 3 nights or similar
DAYS 6 - 7 TURNEFFE ATOLL
Birding, swimming with dolphins and other marine life, an excursion to the Blue Hole (as made famous by Jacques Cousteau) and The Booby Bird Sanctuary on Light House Reef, and just relaxing in the warm Caribbean sun and sea are all included in this once-in-a-lifetime Turneffe Flats experience.
Meals :
Breakfast, Lunch, Dinner
DAY 8 AMBERGRIS CAYE - BELIZE INTERNATIONAL AIRPORT
Flight transfer to Belize International Airport.
Meals :
Breakfast
HOTEL OPTIONS OR SIMILAR
Chaa Creek Rainforest Reserve
The Lodge at Chaa Creek, 4.5*
Turneffe Atoll
Turneffe Flats, 4.5*
Rates in CA$, per person, starting from, in double occupancy

Land Package

Rates coming soon – Please contact us
**Prices in this document are for information only; they were issued at press time, for the current year. Please note that due to exchange rates and temporary promotions, they can increase or decrease at any time. Contact your travel agent for the price and promotion of the moment. The prices indicated exclude the contribution to the Customer Compensation Fund of $3.50 per $1,000 of tourism product or service purchased from a travel agent in Quebec